Since I first covered Lunar Poker back in early 2013, the game has evolved significantly to the benefit of both players and casino operators. The game inventors have developed a highly robust and innovative game with great service and support. The table layout designs and state of the art double-sided, digitally animated signage really set a new standard for the industry to follow.
While Lunar Poker has been live in South Africa, the Philippines and few select casinos in the US for the past couple years in evolving formats, the game is now positioned perfectly to invade the United States. An incredible amount of compliance work has been completed in order for the developers to distribute Lunar Poker independently throughout North America, which Casino Operators are finding very refreshing. In order to stay at the forefront of innovation with high performing products, Casino Executives need to watch this unique and fast moving game closely to evaluate it for their casino.   However, based upon personal observations, I think that this game has merit as well as mass appeal. Despite the tremendous growth of slot machines in recent years, table games are still a very important component for the overall success of any casino.  Lunar Poker is a new, exciting and profitable table game.
The original version of Lunar Poker released in 2012 was revolutionary for the number of options it gave players. The new version keeps all of the most popular options such as Drawing 2-5 cards and Buying a 6th Card to beat the dealer's hand. Most significantly, the game developers have managed to make Lunar Poker faster and simpler to deal, teach and play while creating non-stop action and excitement. The introduction of two new features attached to the existing side bet have taken the player experience and revenue streams for the Casino Operator to a whole new level.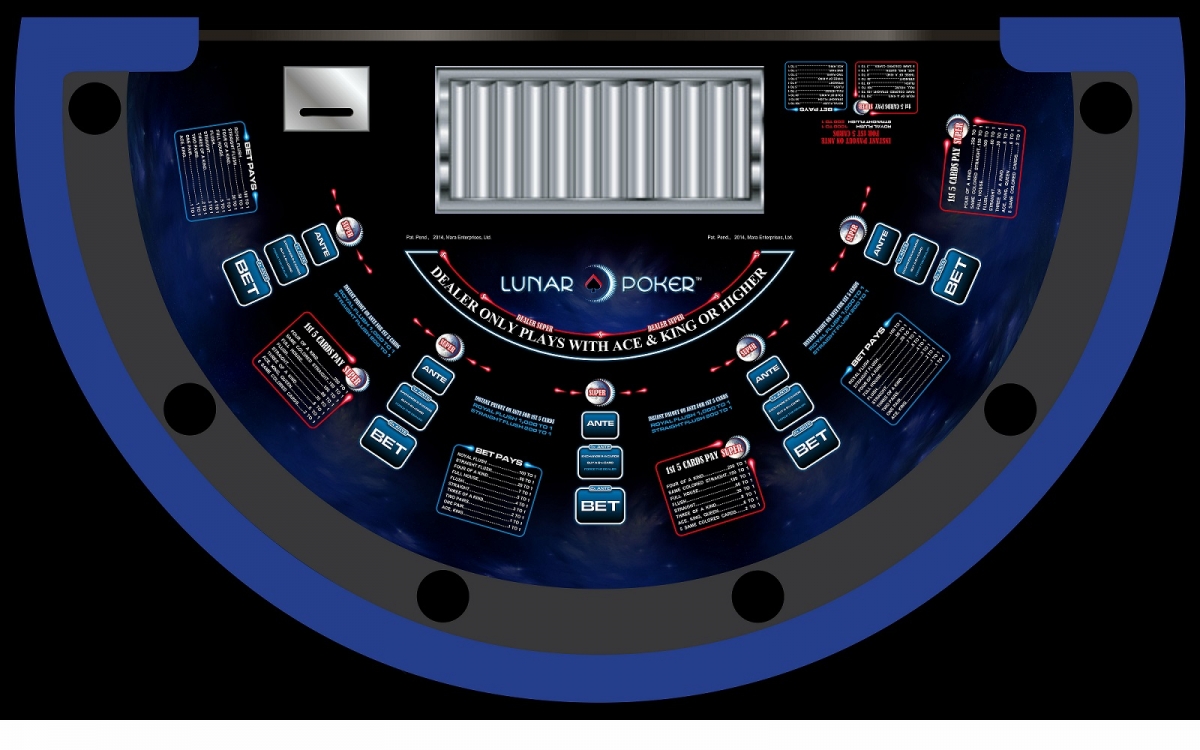 Lunar Poker has added Multi Super Bets, so players can now place a Super bet on their friends hand or any other player's hand and share in the winning moments. This has added a real social aspect to the game in an almost communal atmosphere found in most casinos. This game is fun to play either alone or in conjunction with other players sitting at your table. Even more innovative, a new patent protected feature allows players to bet on the Dealer's hand having a Super combination. This keeps the player fully involved until the end of the round of play even if the player has folded their hand. The dealer may also beat the player's hand but the player still wins on the Dealer Super bet. Combined, these cutting edge Super features add an extra 25 betting opportunities per round, encouraging the social nature of the game for customers and boosting the revenue for casino.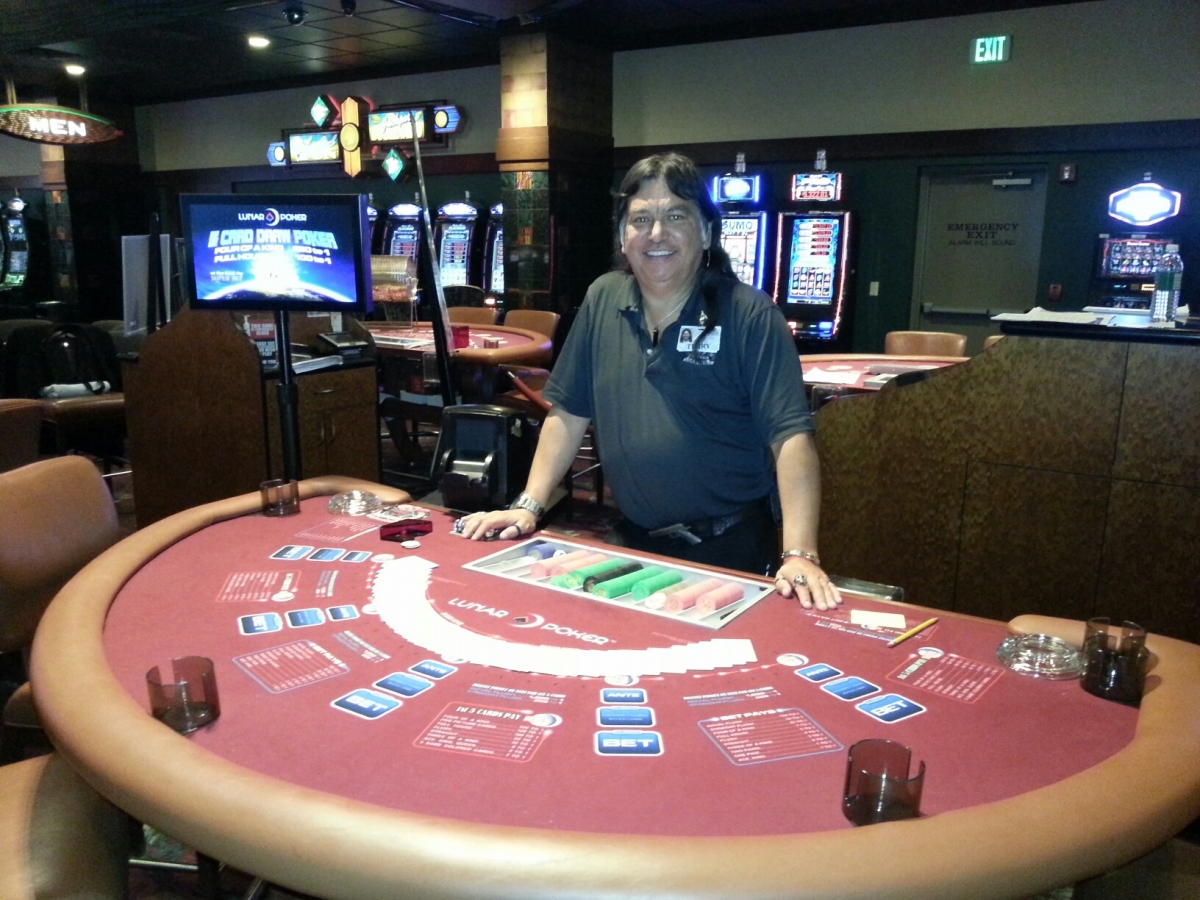 These new features indicate that the new "Super" features add 200% to the Super bet revenue alone. The dealers especially like the added Super bet options as they lead to increased tips and fun on the game.  Therefore, Casino Operators can expect friendly and enthusiastic dealer support for Lunar Poker.
The unique Double Combination Payout feature is still in the game, where a player can also be paid for any 2nd poker combination within their winning hand, and players love being told they won more than they thought.
The latest version of Lunar Poker has a very fast learning curve for somebody familiar with basic 5 Card Draw Poker, and it will engage and entertain all levels of Poker aficionados. The Lunar Poker developers have engaged GLI to conduct extensive mathematical analysis of the game. The house edge on the game is 2.38%, with the typical hold on cash drop being 26 - 32% which supports a very healthy win per unit for any Casino Operator.
The developers of Lunar Poker haven't left a stone unturned and have placed a very heavy focus on protecting Lunar Poker against advantage play. They even had GLI stress test the game for the impact of player collusion. Due to the ingenious design of the game, this analysis concluded that even if 4 players were colluding on Lunar Poker, the hold % would still be better than a standard game of Blackjack where the players would find it impossible to get an advantage over the house.  This is a nice benefit for any casino operator.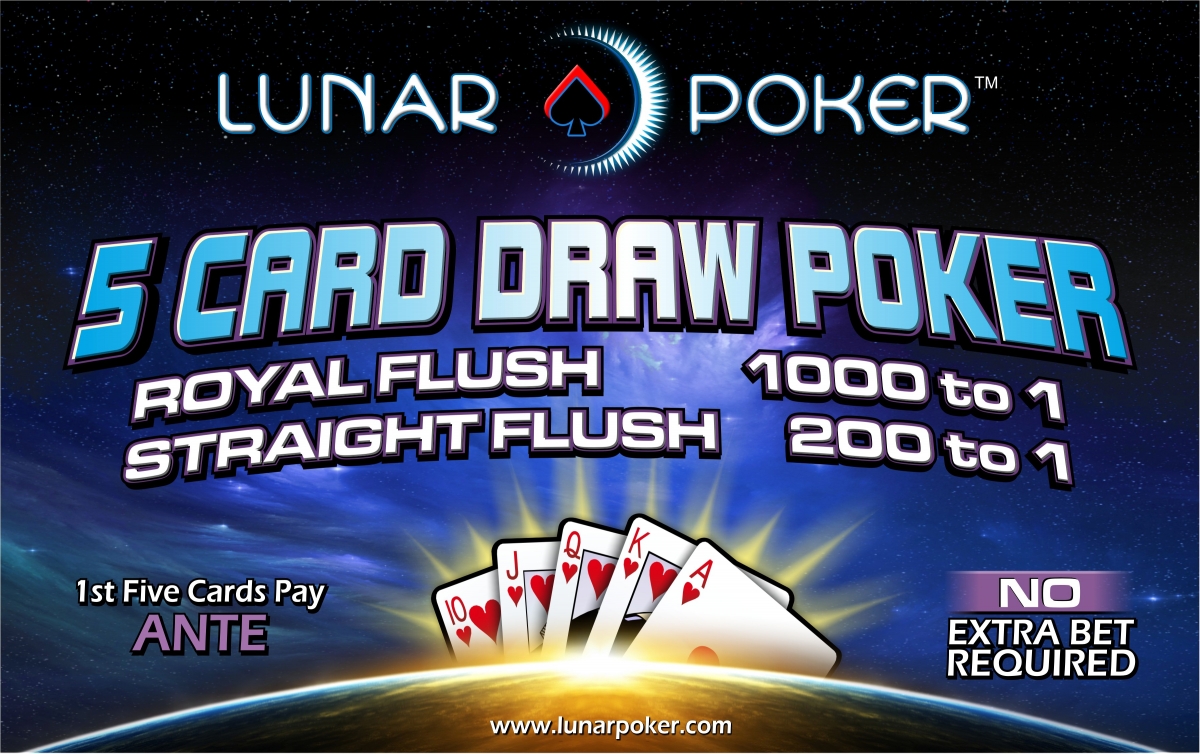 The developers have held the approaching launches of the Lunar Poker in the US close to their chest, but word has it now that we will see a torrent of Lunar Poker unleashed across Oklahoma, Pennsylvania, California, Louisiana, Minnesota, Indiana, Missouri, Arizona and Washington coming shortly once final Gaming Commission approvals are completed.
Casino Executives everywhere have been impressed by what the Lunar Poker developers have independently achieved. But with intense research and development, particularly within the last 12 month period, these casino guys have produced something very special. They have put together a product unlike any other, to the point where only 2-3 rounds of play at a demonstration of Lunar Poker is needed to convince even the most skeptical operator or casino manager that they must have this game for their casino.
It's been a long time since anything truly innovative as well as being beneficial to both players and to casinos alike has hit the US table game market – Lunar Poker has certainly arrived to meet that challenge. So many of the Carnival Poker games are starting to look very similar, to the point where they almost merge together as one. Lunar Poker undoubtedly sits in a class of its own above all competitors as a unique product and it is becoming very clear that this game will make a major impact shortly across the American gaming industry as well as internationally. www.LunarPoker.com 
Key Excerpts from our previous article from last year for any readers who may have missed it:
Lunar Poker Hits the USA
By Steve Karoul
Rumor has it, that a Team of Casino Executives originally took a number of different versions of the base game from Eastern Block European and Russian casinos and then further developed this already powerful product with some very unique features to compete with the best in the American market. The game math was initially verified by the renowned poker wiz, Stanley Ko, from Las Vegas and has subsequently been fully reviewed and certified by GLI.  All this has taken approximately five years to complete and now this so called "Caribbean Stud Poker on steroids" type game is about to roll out across the United States.  Industry experts believe that Lunar Poker will leave most existing poker variants in its wake.
The developers and licensors of Lunar Poker are based in Macau. They have recently established a new development team conveniently located in the United States. Prior to entering the US market, the game developers thought it best to test the market in Australasia first. Australasian Casino Executives in Macau, Australia, Singapore and New Zealand were very excited about the new game.  Overall acceptance has been almost immediate after experienced gaming personnel were able to view and participate in an actual demo of the new game. The feedback has been universally positive and the product seems to be in a class of its own. The base game is very attractive but it becomes even more exciting and appealing to players due to some of the unique side bet features as well as an added progressive jackpot option.
The base game has proven to hold approximately 35% of cash drop and the side bets provide a strong house advantage of over 2.3% for the casino. This occurs innocuously while the players are engrossed in a "real" game of poker. It's no wonder that the gaming industry is starting to take a much closer look at this new game.
Lunar Poker is the only true game of draw poker played against a dealer currently available in today's market place and was developed with the poker player's every desire in mind.  Even though Lunar Poker is loaded with several different options for the player to better compete against the dealer's hand, the game itself is still relatively straight forward and very enjoyable to play which is one of the reasons why play acceptance of this new game is so high.
For example, once the Ante bets are placed, the players and dealer each receive 5 cards with the dealer's 5th card exposed just like in Caribbean Stud Poker. Then the real fun begins with the players having the option to buy a 6th card or exchange 2-5 cards in hope of improving their hand before they decide to play or fold against the dealer. The dealer basically sits on their original 5 cards and just like in Caribbean Stud Poker must qualify with Ace-King to pay out on the players raise bets.
However, if the dealer doesn't qualify with Ace-King, the players with high paying combinations can chose to force the dealer to change their highest value card with the next card from the deck in a second attempt for the dealer to qualify.
Each of these options attracts a fee equivalent to the player's original Ante bet which is immediately locked away as casino revenue. Henceforth, we have the basic game of Lunar Poker .
Lunar Poker goes a step further by offering a number of additional highly competitive and very popular features which include:
• "Instant Cash Payout" Feature: If the player lands a Royal or Straight Flush in the initial 5 card deal, they will automatically be paid out at least 600 to 1 or 200 to 1 respectively on their Ante bet.  Casino operators may offer even higher odds if they elect to do so. We're told that the math stacks up for this option.
• "SUPER Side Bet" Feature: The player has the option of participating in the "SUPER Side Bet" feature at the beginning of each round, where they can win at generous odds if they strike any one of 8 "SUPER" combinations within their initial 5 card hand. The pay table for this feature appears to outdo the competition and is very appealing to most players.
Layered on top of all this, the Casino Operator also has the option to offer a progressive jackpot where we must assume that jackpot totals will match or surpass those of the carnival game poker variants as the popularity of Lunar Poker increases among players and casinos.
One can see why people would say that this poker game seems just too good to be true. Many are still struggling to find the catch but there isn't one. The game is very transparent and straight forward. For now, all we can do is wait and watch to see how Lunar Poker will develop in the United States and if the pumped up version will thrive here. Based upon initial results and history abroad, one can only speculate that the boys from Macau will be here for many years to come. There are many new games introduced each year but only a very few ever gain optimal success. Lunar Poker definitely has all of the attributes to be one of them
Steve Karoul is a recognized casino consultant with over 36 years of hands-on experience with the best casinos both within the United States and internationally. He is also an authority on all aspects of casino marketing. Steve has lived in numerous countries and has conducted casino marketing activities in well over 100 countries around the world.   He also monitors Poker, online Poker and online Gaming around the world. He is an author, a lecturer and an educator who often injects his own hands on experiences and openly shares his ideas and thoughts with fellow industry executives. Telephone + (1-860) 536-1828 or skaroul@comcast.net or see www.euroasiacasino.com