Interview by Bill Healey and Peter White with Eileen Moore, Regional President at Caesars Entertainment
We're catching up in this issue with one of the rock-stars of the Las Vegas casino gaming industry. Spending her career in hospitality, Eileen Moore quickly built on her experiences in marketing and technology to rise within the industry. She is now a Regional President at Caesars Entertainment Corporation.
With a start in Reno more than 77 years ago, Caesars has grown into the world's most geographically diversified casino-entertainment company through development of new resorts, expansions and acquisitions. Operating casinos on three continents, Caesars is now the world's most geographically diversified casino-entertainment company. The company's resorts operate primarily under the Harrah's®, Caesars® and Horseshoe® brand names and also owns the London Clubs International family of casinos.
Image: The Cromwell Hotel Resort Casino
As a senior level operations leader with extensive knowledge and proven ability, Eileen was able to leverage world-class technology solutions to create measurable and substantial revenue producing capabilities.
You grew up in the hospitality industry, so when and how did you make the move into gaming?
I started working in the hospitality industry when I was 15 years old at The Hotel Thayer at West Point Military Academy and I fell in love with the business. I attended The Hotel School at Cornell University and earned my degree in Hotel Operations. I was always attracted to iconic and historic hotels so I was fortunate enough to work for The Waldorf- Astoria in New York City and The Fairmont in San Francisco. While working in the hospitality industry, I was on the ground level for the roll out of revenue management strategies and technology. The vendor that worked with us to build our system at Hilton was building the first-ever gaming hotel revenue management system for Harrah's Entertainment, now Caesars Entertainment, and I joined them in 1999 to roll it out. I have stayed at Caesars, and with the industry since then because of how dynamic our company and business has become.
You have a considerable technical focus in your earlier years, including working in Revenue Management stretching back more than 20 years. It was a fairly new concept in hospitality and gaming at the time. How were you prepared for RM, and how have you seen it advance in Hospitality and Gaming?
We didn't offer a Revenue Management class when I attended University, but I always enjoyed our statistics and forecasting classes, so I was drawn to yielding and pricing early in my career. It is such an amazing feeling to know you are driving the profitability of the entire property and get a scorecard every morning of how you performed.
Image: Eileen Moore Regional President at Caesars Entertainment
How would you summarize your management style: how you work and manage others?
Many of my sponsors and mentors spent time developing and teaching me, for which I am extremely grateful, so my style for the past five years has been very focused on developing my team members to be the best they can be both personally and professionally. My greatest joy is seeing people that I have developed lead these tremendous businesses. I have directly developed over a dozen casino General Managers, and I am very proud of that.
You're a founding member of the Global Gaming Women. How did that come about, and what are the goals and successes of the group?
I was invited to join the board by Virginia McDowell, our founding Chairperson and was thrilled at the opportunity to develop and educate women across our industry. I have had a fantastic and rewarding career and wanted to inspire and motivate women to continue to develop and succeed. Our mission is to deliver high impact programs and events on a global scale that support, inspire, and influence the development of women in the gaming and lottery industry. We have had hundreds of women participate in our educational and mentoring programs with a high degree of positive feedback.
What do you see as the future for women in gaming?
Gender and pay equity is within our reach and we need to continue to aspire to be one of the first industries to achieve this globally.
What are your responsibilities as Regional President for Flamingo / LINQ Hotel & Casino / Cromwell?
I am responsible for the operations of these three incredible unique resorts, and ensuring our 5,000 team members are ready to create memorable experiences for our guests. I like it best how my son describes my job, "my mom puts on peoples' vacations." The Flamingo is the longest operating casino resort on the Las Vegas Strip and turned 70 this past year, while the LINQ Hotel & Casino and the Cromwell are the two newest.
The Flamingo is in its 71st year and is going through a major renovation. What investment is being made in the property?
We recently finished a $7M refurbishment of our convention space, and we are currently undergoing a $90 million renovation of 1,270 rooms at Flamingo Las Vegas, with first guests anticipated to check in November 2017. All rooms to be complete around the second quarter of 2018.
The LINQ Hotel & Casino has become a significant draw on The Strip. What market does The LINQ Hotel & Casino address?
The LINQ Hotel & Casino has been a smashing success with its target demographic: millennials. The LINQ Hotel & Casino offers a modern resort experience that is technology forward, approachable and in a fantastic location.
With your past technical work in data management, how do you see using data to enhance retention of current clients?
Caesars Ent. is known as a best in class for any company in using our rich customer databases and we continue to grow and get smarter about the best uses, particularly on the hospitality side.
How does Caesars use its prime locations on The Strip to address those not within the current management system?
We have entanglement strategies and new technology to capture as much of the in-market and foot traffic as possible and we are relentless in our efforts to grow this valuable channel.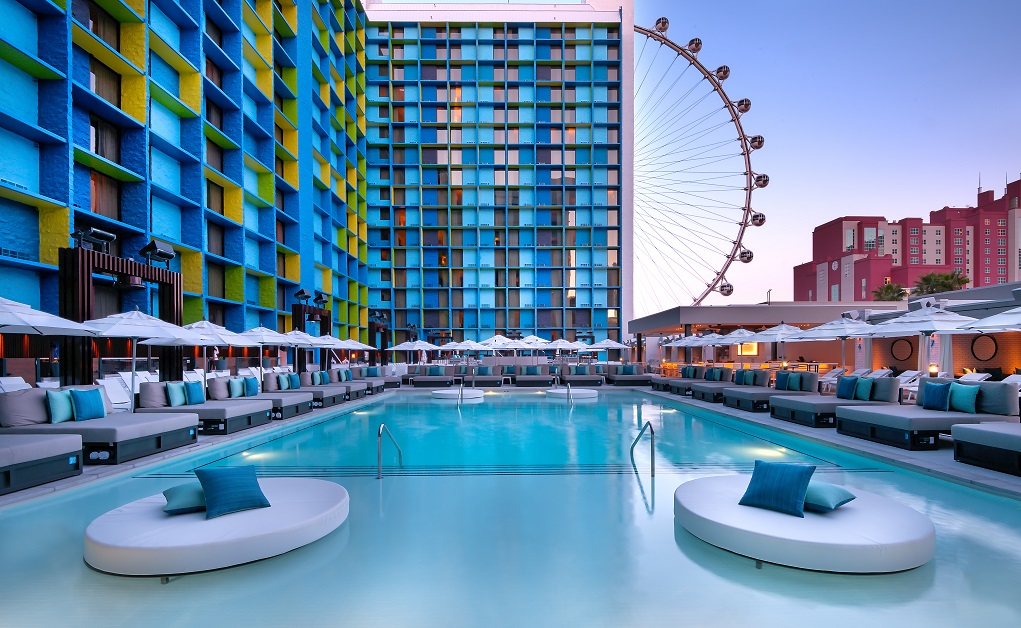 Image: Pool side at The Linq Hotel & Casino
How does Caesars address clients from overseas, such as Asia, Europe, South America? Has the group actively promoted foreign and/or multi-lingual staff within?
The Flamingo is a global brand and as such we have a very high percentage of international visitors. They crave the legendary and authentic Las Vegas experience and the history that this resort provides. We have 24 hour access to interpretation services and use them quite frequently! We also continue to grow with our mobile pay options, such as WeChat Pay, which is very popular with our Chinese guests.
Casino Life Magazine would like to thank Eileen Moore for her time and contribution to this imterview.
(R) Bill Healey Associate Editor Asia
Bill Healey has spent his professional life in the leisure software industry, developing and implementing solutions used around the world.  Along with this, he has been actively writing on gaming and leisure since the turn of the millennium with content focused on global technology, market reviews and property profiles.  Splitting time between SE Asia and USA, he remains actively involved in international technology as a Director of Quasar Group International.  Connect on Twitter @heybil
(L)
Peter White Publisher
 In addition to his role as Publisher of Casino Life and Bingo Life, Peter also undertakes interviews with leading Casino operators. He has travelled extensively over the course of 17 years, visiting Casinos World Wide as well as attending the leading gaming industry exhibitions and conferences. Peter is also Vice President, International Operations for leading US based Gaming industry consultancy, 
WhiteSand Gaming
 LLC and a Director at 
Screentrade Media Ltd
, a leading International Publisher specialising in the Cinema Industry.