Damien Connelly and Peter White interview Erwin van Lambaart, CEO Holland Casino
Thank you for sharing your time with Casino Life Mr. van Lambaart. Your career has focused on hospitality and entertainment. Please tell us a little about yourself so we have a better understanding of you, your experience, and how that brought you to Holland Casino.
I have the privilege to be heading Holland Casino for well over a year now. I have worked in the international hospitality and entertainment industry for over 30 years. The common grounds in all my career steps were hospitality, marketing and people, and in my capacity as CEO of Holland Casino I needed that experience. It is a complex and unique industry. Mathematics, hospitality, entertainment, stakeholder management, entrepreneurship and a deep sense of responsibility: it all comes together in the world of casinos. Well, at least in our world of Holland Casino!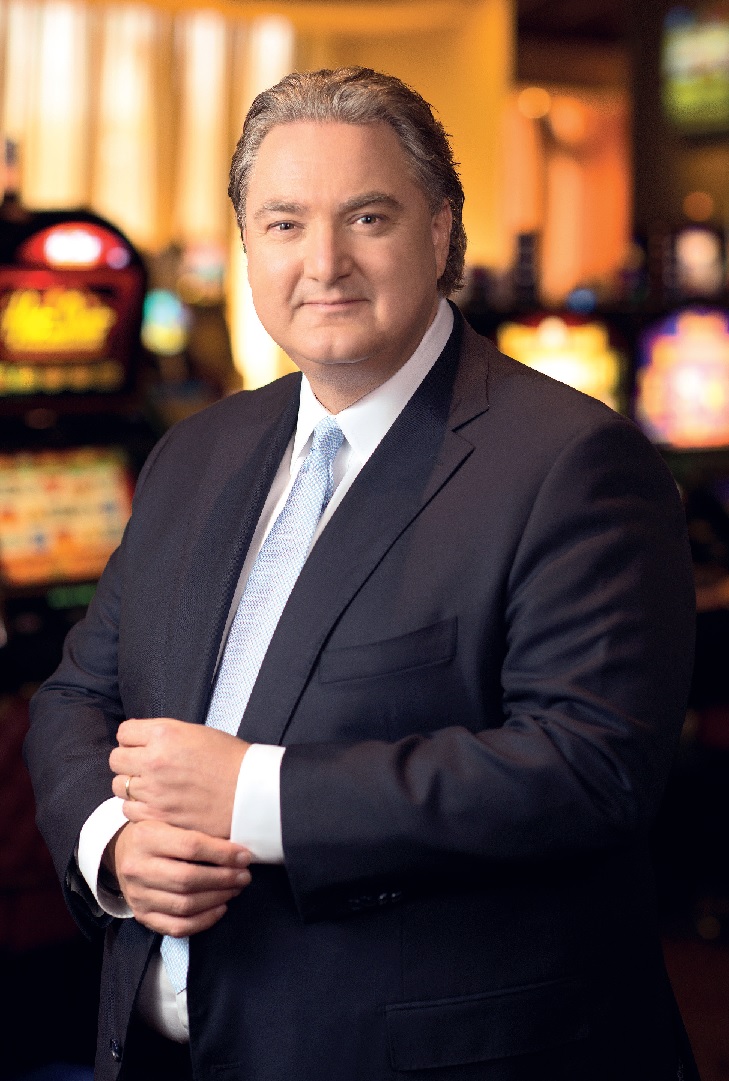 Image: Erwin van Lambaart, CEO Holland Casino
You joined Holland Casino in March 2016. This is one of the first interviews with any media worldwide, and Casino Life would like to thank you for this opportunity. How do you define your role at Holland Casino?
I do not see my role as that of a lone leader; I believe in cooperation, in doing things together. I strongly rely on the capabilities and professionalism of the men and women in our organisation and I encourage them in their roles to and help develop Holland Casino. Of course, I am the CEO and at times strategic, clear and strong leadership is required. For example, Holland Casino is preparing itself for fundamental changes in legislation. It is my responsibility to ensure that all my colleagues have this at the forefront of their minds. One needs to realise that running a successful business today, requires acting now on tomorrow's events whilst preparing for the years ahead. Maintaining the status quo is simply not an option.
Image: New Sports bar image at Holland Casinos Rotterdam Casino
If you had to describe your mission, what would it be?
The global casino market is working on the casino of the future. Of course we are too. First question: what will our land-based casinos look like in 2020 and beyond? Second: will we have achieved the maximum integration of land-based and online gaming? Can we say by then that we have achieved a true and inspiring omnichannel proposition for our guests? Third question: Who are our guests. How can we raise the interest of the so-called 'millennials' without neglecting our current guest communities? In other words: how do we manage to be both cool and trustworthy at the same time?
Our mission is to find the right answers to all these questions, based on the optimal mix of realism, innovation and entrepreneurship. We will go into partnerships where we need to and lead where we can and must. It's a mission, but it is also a dream: creating an exciting future together.
Image: Recently Refurbished Rotterdam Casino
What are you finding are the main challenges facing Holland Casino?
We are living in a time of rapid change. The world around us is shifting, putting us in a highly dynamic playing field. We cannot exactly predict the future, as we are not steering the majority of those changes ourselves.
The Lower Chamber of Dutch Parliament has already passed legislation and we are now awaiting decisions by the Dutch Senate. This legislation, if it all goes through, will change the casino market fundamentally. Firstly, the lawmakers will open the market for remote gaming, online casinos. Of course Holland Casino will apply for a permit in this market, and with our partner Playtech we are preparing ourselves for the moment the Senate approves this law. Secondly, the Dutch land-based casino market will undergo a major change. The country will be divided into five regions, where 16 casinos may operate. The current 14, managed by Holland Casino, and two new licenses. Holland Casino will maintain 10 of its current 14 casinos, and 4 will be sold, to a new owner. Which four? We don't know yet! That can only be decided once it has passed the Senate.
Moreover, fast changing consumer behaviours demand from us that we act and react promptly. And more important, that we anticipate. By not doing so, we risk an open door to illegal suppliers who are faster and more aggressive than ever before. We do not want that, as it may hamper our license to operate.
Image: Slot Floor – Rotterdam casino
What would you say makes Holland Casino unique?
I would say that we have a very strong proposition in our internationally lauded Prevention Policy. All political parties in The Netherlands, from left to right continue to praise Holland Casino and its staff for this. I dare to say that this policy is not just "a" policy; it is in the DNA of our dedicated staff. When we have an omnichannel product we aim to offer our guests the best games and experiences possible. But that comes with a responsibility to protect our guests in the best way we can. Let me make another point here. We know that in our industry there is an urge for the development of more and more skill-based games. That makes gambling and gaming converge. We call for a controlled transition in this development if we want to organise this new branch in our market properly. We at Holland Casino will not target 18- 23 years olds in our marketing specifically as we know that this group is more prone to addiction. That kind of statement is what I consider to be part of our responsible entrepreneurship. At the same time we have proven that we have the best dealers in Europe. Over the last 2 years we have won gold-silver and silver-bronze at the European Dealer Championships. We are proud of our 5-star hospitality and we have the knowhow to create original marketing ideas and deliver a healthy result for our shareholders.
Image: Artist impression of the Casino to be built in Utrecht, with a planned opening in 2019
Over the last few years, there has been a significant change in how Holland Casino has been branded, marketed and operated. Can you summarise what your customers (new and existing) can expect when they visit one of your venues?
Yes, there have been many changes, and the experience one would have walking into a casino, say, 15 years ago is very different from a visit today. But let me name one big change, a very recent one for us. In our Rotterdam Casino, we recently started with a 24/7 service to our guests. All our casinos close at 3 AM, but Rotterdam stays open. That is our answer to a changing society. A modern city with a modern economy needs a modern entertainment proposition. Holland Casino is very proud to have the permits in Rotterdam – and aims for permits in Amsterdam – to provide a 24/7 service to our guests. Our first experiences for both guests and our teams are very positive.
Image: Tables at Rotterdam casino
Another example is that we want our venues to be much easier reached by car and any means of public transport. Our guests expect us to make it easy for them to find us while at the same time we are much more connected to our environment. We believe that the "old" image where a casino has no daylight at all is behind us and we believe that we are part of a community in a city in many ways. An example is our integrated product marketing strategy. We Sponsored the new daily version of "Wheel Of Fortune" on Dutch national (SBS) television while at the same time te latest slots with the whole Wheel Of Fortune branded content were launched in our casinos. The results were good. And there is more to come along this strategy line.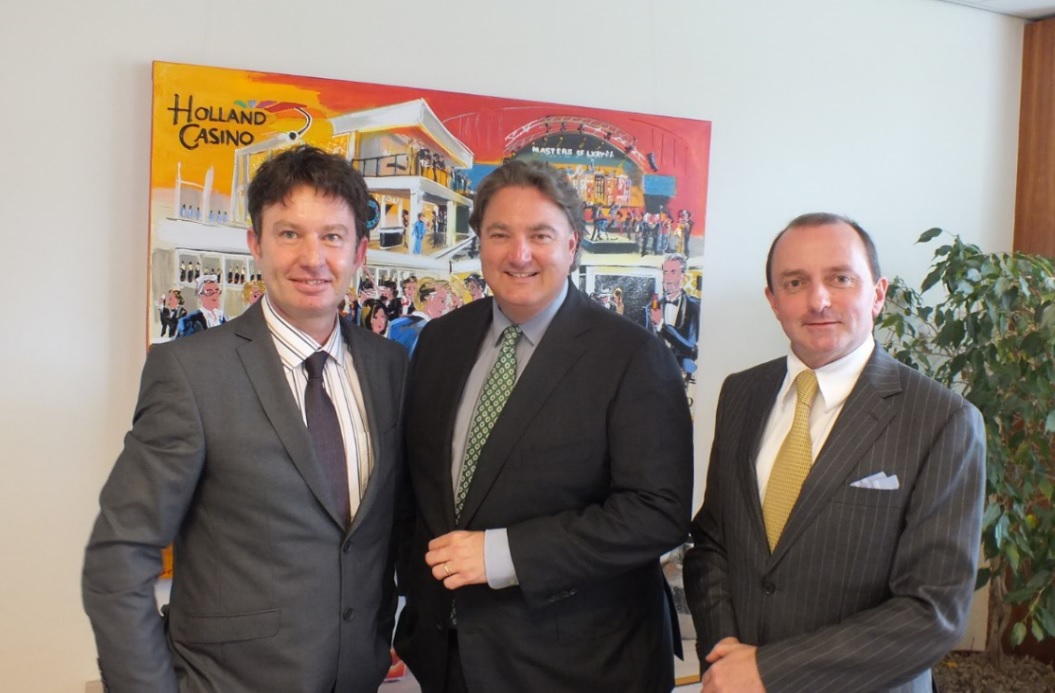 Image: Peter White Publisher Casino Life, Erwin Van Lambaart CEO Holland Casinos, Damien Connelly Features Editor Casino Life
Holland Casino is making extensive refurbishment investments. Can you provide details on the key suppliers to Holland Casino, such as roulette tables and live table displays?
We work with many of the best partners and suppliers in the world like IGT, Scientific Gaming, Aristocrat, Novomatic, and Cammegh for our slotmachines and tablegames but also Gensler for our casino design and Heineken our famous dutch beer brand. We are also proud of the fact we designed our own gaming tables. Gaming Support produces them and we will show them to our international colleagues at G2E.
Our philosophy is that our premises should be recognizable as a 'Holland Casino' but we will always decide project by project as we believe that each new casino should be unique. We do not want any venue to be just a simple copy of one of our existing casinos. But of course we are smart enough not to overspend and keep that which worked well in all our 14 venues at the same time.
Image: After winning gold and silver in 2016, Holland Casino won silver and bronze in 2017 at the European Dealer Championships
Holland Casino has a reputation you must be very proud of, based on a foundation of high quality and highly trained staff working throughout the organisation. How are the staff responding to the challenges and opportunities facing Holland Casino?
Thank you for that question. Yes indeed, I am most proud of our staff. They are the base of the success of Holland Casino. That is why I believe in investing in people. That means training, vitality programs and a well-balanced collective labour agreement. Thus we try to provide a certain and stable future, no matter what changes we are facing. Meanwhile we invest in training young and new staff. They will assure stability and continuity for our company.
It is not easy for them when so many changes are happening around our company at the same time and we are glad that after several months of tension we have been able to secure a long term labour agreement until 2020 so that we can jointly work towards new horizons.
Image: EDC 2017 Runner up Gilbert Ho Kang Jou HC Scheveningen
You must be delighted with the success of Holland Casinos Croupiers at the European Dealer Championships?
Yes we are! We are very proud of our recent results: In 2016 Ray de Rozario won the Gold medal with Ted Bakker winning Silver. In 2017 we won two medals again: Silver for Gilbert Ho Kang Jou and Bronze for David Luijten. This tells you that Holland Casino dealers are world class professionals and that we are able to maintain the highest standards.
Image: 3rd place David Luijten HC Eindhoven
Do you spend time looking at what other casinos are implementing or innovating in neighbouring countries, as well as further afield (such as in Las Vegas and Singapore)? Or do you prefer to draw more from the internal ideas of the company, and its past and present, for what is one of the most established names in gaming, and add to that your own experience in hospitality and entertainment?
Of course! There are many brilliant colleagues around the world who are very good at what they do. As expressed earlier in the interview, we are all looking for the Casino of the Future. We also believe in our own powers of innovation. I dare to say that we are quite good at, for example, cross-medial propositions. But we also have a few ideas – I am not about to reveal here – that may catch the interest of our competitors. I once joked that the day may come when everyone at the big casinos in Las Vegas or Macau will know where Hoofddorp is. But if you knew me, you would also know that this is more than just a joke…
Image : Artist impression of the Casino to be built in Venlo, with a planned opening in 2019
Technology plays such an important part in our lives, and it has certainly affected our leisure time. How has it affected the offering within your casinos?
We have a comprehensive program with data analytics. We are learning more and more – and on a scientific basis – about the behaviours and present and future needs of our guests. I am confident that this will enable us to anticipate our guests' expectations and fulfill them at the earliest opportunity. We monitor trends in gaming behaviour and build a deep understanding of our players and guests. Offering an omnichannel experience, where a guest can find both online and offline the same propositions, the same loyalty programs and yes the same "hospitality", is just one example of that thinking.
Image: Recently Refurbished Rotterdam Casino
Can we expect greater use of social media in the marketing mix of Holland Casino in the future?
Within the legal boundaries of casino marketing, yes absolutely. Our marketeers constantly seek out new ways to communicate with our guest communities. Social media are nowadays an indispensable part of marketing mix. The great asset is that we can communicate one-on-one much better than ever before.
How is Holland Casino performing?
Holland Casino recorded a strong result in 2016. But that is no reason for us to rest on our laurels: the expected substantial changes in the Dutch gaming market mean that we have to prepare for the challenges we will face in the future. Our revenue before taxes came in at €608 million, a rise of 6.8% compared with the previous year. Pre-tax results increased by € 11 million to €82 million. We also saw the number of visits increase: the 5.9 million visits meant an increase of 1.7% compared to 2015. The average amount of money spent per visit was also higher: €103 per visitor. The first half of 2017 shows that we hold on to the increasing trends in our results. After correction for non recurring items the result after taxes is €36 million.
How do you see the future of Holland Casino?
I am most confident about the future of Holland Casino, and I base this confidence on four values that run through the veins of all employees of this company. We are sincerely engaged. That means we seriously care about our guests. We address them in a most professional way. Secondly, real and honest cordiality. This means, we make our guest feel welcome and lavish excellent care on them. Our guests are the focal point of everything we do. The third value I mention here is that we strive to surprise people. That means exceeding expectations, both in terms of games and in terms of hospitality. And last, but not least, our trustworthiness. We act honourably and in good conscience. We truly believe in safe and responsible gaming. That is in ours and our guests' best interests.
Left: Damien Connelly has transformed the commercial success of both mature and new companies/brands throughout his 20+ years career. His achievements include delivering several world firsts for B2B and B2C clients in industries as diverse as casino, FMCG, high tech, media, mobile, and retail. He advises the European casino industry, as well as being the Features Editor of Casino Life. He holds professional membership of the UK's Chartered Institute of Marketing, and has two Masters degrees from highly respected British Universities.
Right: Peter White  In addition to his role as Publisher of Casino Life and Bingo Life, Peter also undertakes interviews with leading Casino operators. He has travelled extensively over the course of 17 years, visiting Casinos World Wide as well as attending the leading gaming industry exhibitions and conferences. His recognised expertise in developing and optimising magazine editorial content in both print and online formats. Peter is also Vice President, International Operations for leading US based Gaming industry consultancy, WhiteSand Gaming LLC and a Director at Screentrade Media Ltd, a leading International Publisher specialising in the Cinema Industry.