Interview with Murray – Celebrity Magician Currently Resident Magician at Planet Hollywood in Las Vegas and Resident Magic Expert for the Pawn Stars TV Show by: Victor H Royer
Las Vegas has always been the Entertainment Capital of the World. This hasn't changed,and won't, according to Murray, the Celebrity Magician, and resident Magic Star at Planet Hollywood, in Las Vegas.
Even with the recent tragedy that impacted Las Vegas, and Las Vegas entertainers and entertainment venues, Las Vegas as a City, and as a Community – residents, visitors, and entertainers alike – are resilient, and not afraid. The future is bright, and everyone here is now, and has always been: #VegasStrong
As I am writing this article, the subject of this Feature, Murray the Magician, is performing at the Vegas Cares benefit at the Venetian Resort in Las Vegas, to benefit the victims and survivors of the recent tragedy.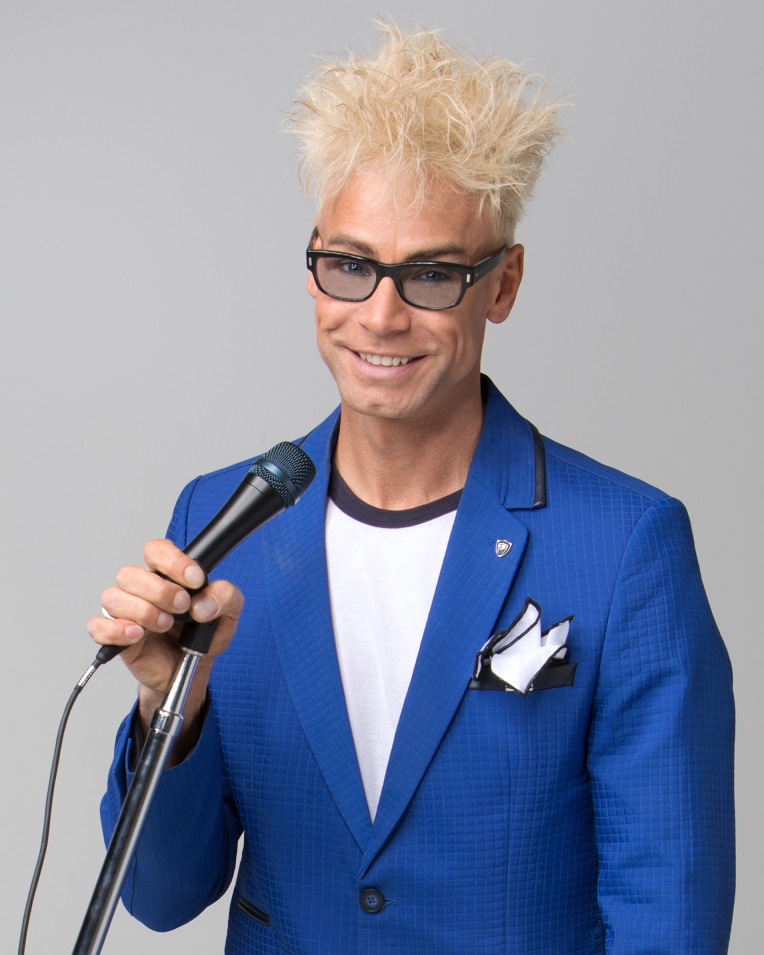 Ken Henderson, CEO of BEST Agency, who is producing the benefit, along with Murray, said he expects a great line up of entertainers. "It's safe to say you will see collaborations between these artists that you've never seen before and will never see again," he added. "It will be a performance to remember. Also, a special thank you to Frankie Scinta, Murray Sawchuck and Clint Holmes for their vision with this event."
Headlined by famed singer and performer "Jewel", the lineup of performers that were scheduled to appear either in person or via video were: Adrian Zmed, Al B Sure, Australian BeeGees, Blue Man Group, Brad Garrett, Britney Spears, Cast of BAZ – A Musical Mash-Up, Cast of Fantasy, Cast of Sexxy, Chippendales, Chris Phillips, Cirque du Soleil, Clint Holmes, Criss Angel, David Copperfield, Dee Jay Silver, Earl Turner, Frankie Scinta, Gordie Brown, Human Nature, Jason Tanzer, JJ Harrison, Kendra Wilkinson & Jai Rodriguez, Lance Burton, Lyssa Baker, Mercy Music, Mike Tyson, Murray Sawchuck, Penn & Teller, Peter Lik, Rich Little, Tenors of Rock, Thunder From Down Under, Tom Green, Travis Cloer, Vegas Golden Knights, and Elvis Monroe. Proceeds from the Vegas Cares benefit will go to a commissioned memorial art piece by Tim Bavington, to honor those involved and affected by the October 1, 2017 tragedy in Las Vegas.
I sat down to my interview with Murray just before, and again just after, the Vegas Cares benefit. We met at a nice place in Boca Park, just north-west on the Las Vegas Strip. It's November now, and there's a chill in the air – at least by Vegas standards. Murray is a very nice person, and a true Las Vegas Star Entertainer. But the first thing that strikes you about this striking entertainer is his humility, and down-to-earth honest approach to his work, his field, magic, and the status of celebrity.
Murray is a consummate professional – and a persona, and personality, which is unmistakable. Yet, as recognizable as he is, he is perfectly at ease at this coffee shop, in the neighborhood shopping park, among regular people in an Internet Café.
Unpretentious. That's the best way to describe his attitude to life, and to people in general. And a really nice guy. Among the world of entertainment Stars, and many who may be considered as "prima donnas", Murray is the antithesis to the self-indulgent and worship starved "star". He is, after all, from Canada – and the grandson of Ukrainian refugees who escaped the Nazis in WW II. I can relate – my Mom, who passed recently, also survived the Nazis, and then the Communists in Europe, before embarking on a 50-year odyssey to give me a chance at life in freedom.
Unlike many of his contemporaries, Murray is also somewhat of a renaissance-man. Today, not many people remember legendary performers like Fred Astaire, Danny Kaye, Liberace, and others from the golden-age of Hollywood musicals. But he does. A legacy of entertainment greats – and their history – fills him with wonder, and appreciation of the art and the work that went into making it all look so easy.
I asked him about that – the work that goes into making "magic" look so real, and so easy. "It's preparation, rehearsal, work, and more work, stamina, determination, and always the focus on the performance, and the audience," he said. "And also always setting the bar just that little bit higher, to reach out for it, perhaps just a tad out of reach, so I have to keep reaching – and that means to always get better, to improve, and reach still higher, and do better. The audience deserves nothing less from a performer," he added.But then that's Murray – a professional, and someone who never forgets that it's the audience, the people who come to see him, that are the reason why he exists, and does what he does. He never takes this for granted – after all, it took him 20 years of work and practice to get to where he is now, the resident Celebrity Magician at Planet Hollywood, in Las Vegas.
After our coffee, and a few reminiscences about many people we admired, and met, like Sinatra,Dean Martin, Sammy Davis, Phyllis Diller, Shecky Greene, Don Rickles, and others, we discussed many other things as well – and so I now present some of these highlights:
Image: Alice Cooper and Murray SawChuck
Murray, first I want to thank you for taking the time to speak with me. As you know, Casino Life Magazine takes great pride in interviewing leading entertainers, celebrities, and personalities – especially those who perform at gaming destination Resorts. Please tell our readers about yourself, and what are the key attributes to your success.
I have been very fortune to be in this business since I was five years old. I was introduced to entertainment when I was very young through Ukrainian dancing, and then later playing the accordion. In my early teens I really got into magic, and dropped all the other entertainment ideas I had. I have a degree in broadcast communications, and a minor in business and marketing, but I have always done magic. In my late teens I started touring the world on cruises ships, and resorts, and going international through Japan and Europe. The main attribute to my success is that I never looked at anything else as another option. I never gave myself anything else to fall back on except MAGIC, so I had better make it work. It's a passion walking on stage everyday and I don't take one day for granted that I get to do what I do.
Image: Murray and Joe Perry
In your career, what would you consider to be the highlights?
Well first of all being born to two amazing parents, my mom and dad John and Arlene Sawchuk in Vancouver, B.C. And later, getting my first major guest start role on Comedy Centrals 'Reno 911', then being a Semi-Finalist on America's Got Talent in 2010, then a regular on History Channel's 'Pawn Stars', then headlining my own show at the Tropicana Hotel, and now at Planet Hollywood Resort in Las Vegas for the last 6 years. And then – most recently – diving into the YouTube market and achieving over ½ Billion Views online just this year alone.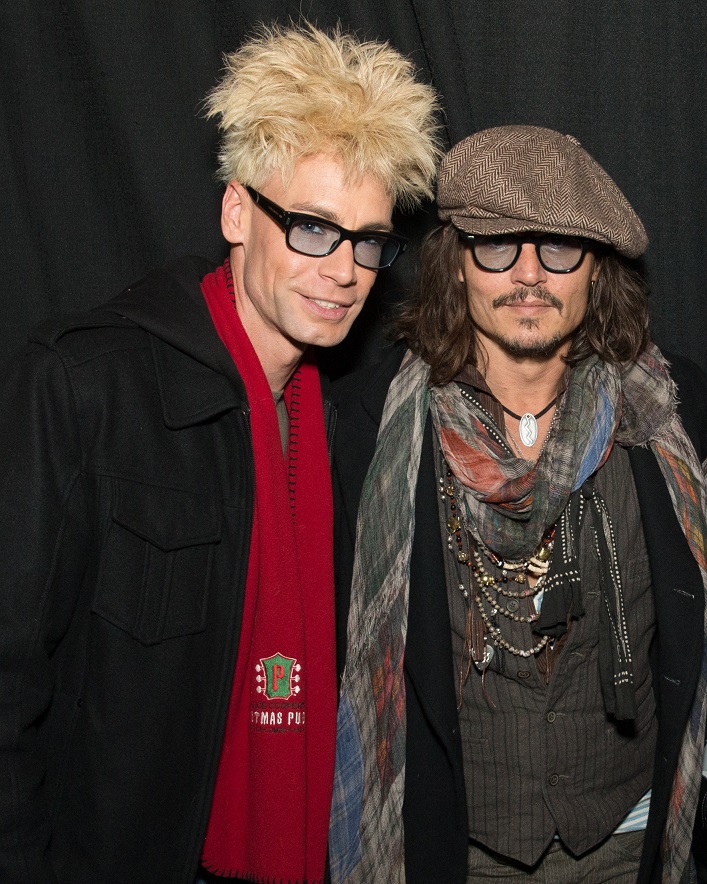 Image: Murray and Johnny Depp 2012
We all have favourite entertainers, or celebrities we follow – have you had an opportunity to meet someone you admire? And work with them?
YES I have been so fortunate. Growing up my idol was Fred Astaire, then Dean Martin, Phyllis Diller, Liberace, Sammy Davis Jr., Danny Kaye… then in my personal life my mentor was Marvyn Roy aka. Mr. Electric, a very famous variety act of the 40's to 80's. People that have touched my life climbing up the ladder I'd say Alice Cooper and his wife Shery. l've met such wonderful people, and I have done their charity Solid Rock 4 times now. Also Michael Godard the 'Olive Artist', Jerry Lewis, Neil Sedaka, George Wallace, Carrot Top, Ben Vereen, Johnny Depp, Joe Perry, Sammy Hagar, Michael Buble.
Historically, I'm sure all Magicians are admirers of Houdini – what do you think made him so extraordinarily special as a magician, and as a performer?
What made him the best was what most people don't realize – and that is that his strongest asset was that he was great at PR and marketing. He was amazing at getting attention for his feats. He was good at what he did, but he really knew how to sell it.
Apart from Houdini, what other historical figures in the field of Magic do you admire, and why?
I love Cardini a 1930's – 50's magician, who acted very bewildered by his own act. And also Ballentine, Tommy Cooper from England, Tom Mullica and David Copperfield.
How about currently – among the contemporary performers of magic, whom do you appreciate the most, and why?
I still think Copperfield is the best, he has the money, time and people to keep him at the top.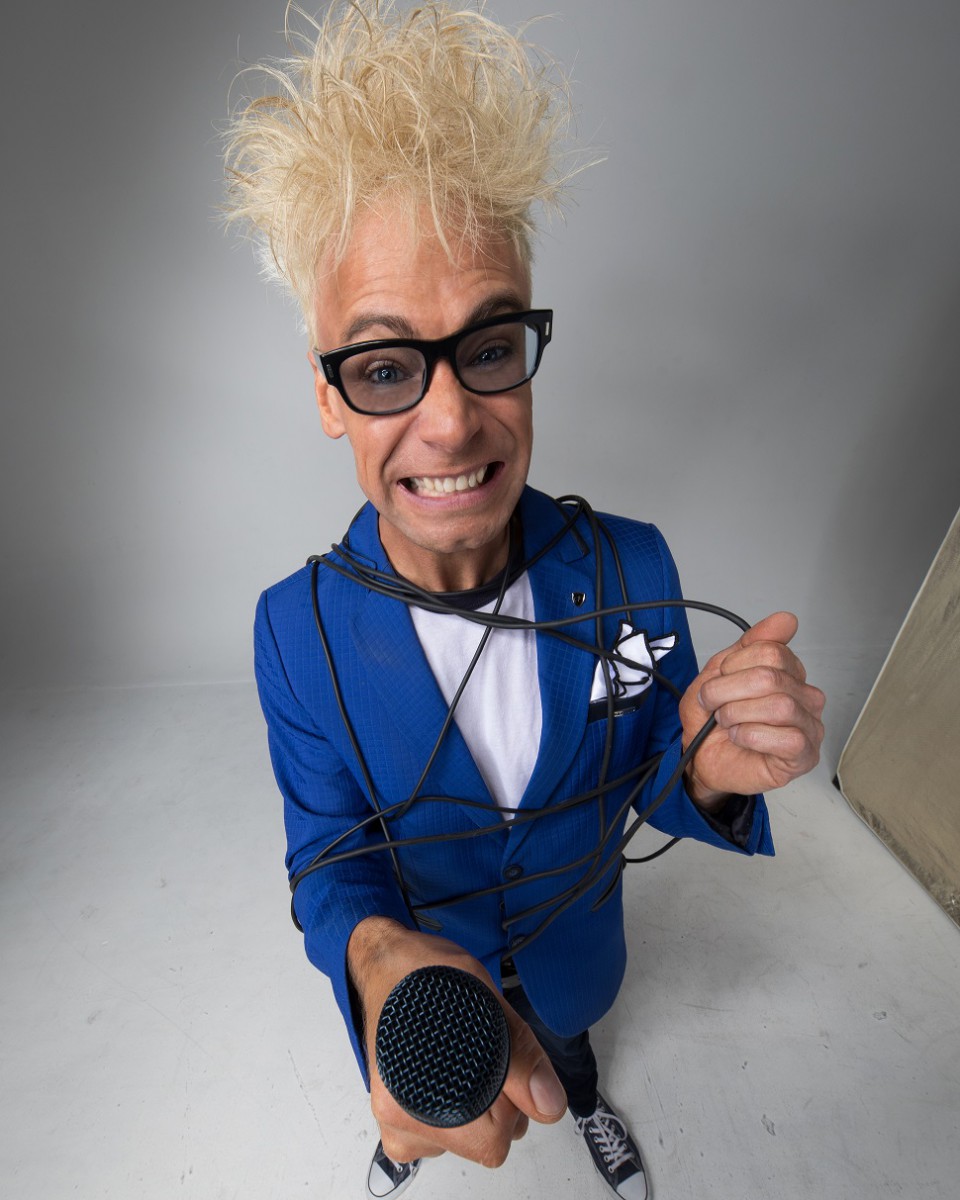 Entertainment is a massive part of the Casino Resort experience – but what is it like for you, to perform nightly, and to keep your performances fresh, and yourself from becoming weary from the repetition?
I love it because with my show even though I have a set of 90 min, I go off script all the time to customize each show for the audience. So with the audience changing everything, my show gets new life every night. I am also consistently putting in new effects all the time.
Performing magic requires a great deal of discipline – how do you manage to keep yourself focused, and in such great physical and mental shape?
I work out about 3 times a week, as I believe as an entertainer you have to look the part, and when you walk on stage you have to give the best to your audience every time. I am always creating and working on new effects, and writing new jokes for my show. I put something new in my show almost every week. I love it! I also do new videos and magic on my YouTube channel every week www.youtube. com/magicmurray so I am consistently thinking of ideas.
What has been the most successful approach employed by you in building your career? What advice, for example, would you give to an up-andcoming entertainer, or magician?
The most successful approach is to LISTEN to your audience if you're not getting a reaction, or if it's not good … bottom-line, work on it or change it, but be honest with yourself and your performance. Also don't be scared to change with the times … it keeps you on your game and working all the time, because then you are current, and not dated. Creating an enjoyable fun and relaxed environment is an important factor in entertainment, especially in a gaming destination Resort.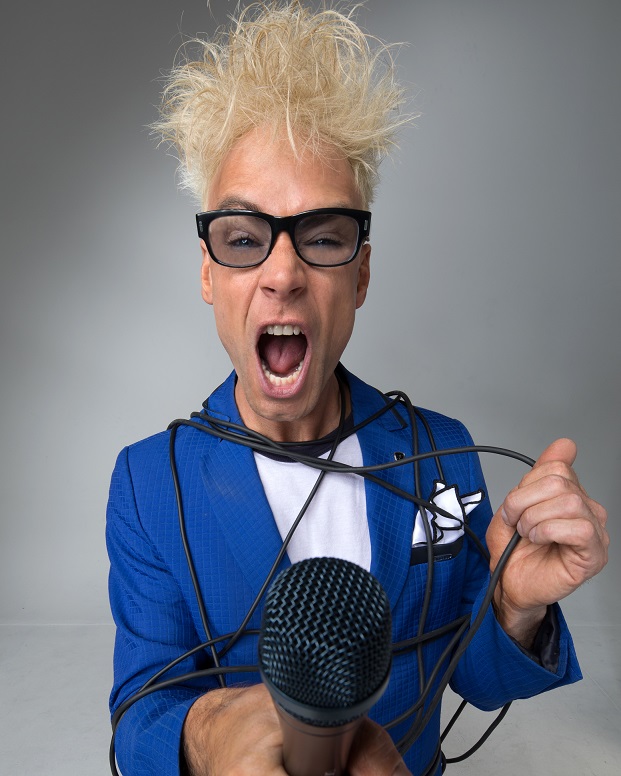 How have you been able to relate to your audiences, and keep them so riveted to your performances?
It's all in how you approached your audience, and let them know they are here to have a party, and a great time for the next 90 min. It's in the energy you give out, and that's how you'll get it back from your audience.
What would you say makes Planet Hollywood the perfect venue for you?
It's the perfect venue for my residency, as I am tied in with mega stars like Britney Spears, Lionel Ritchie, Backstreet Boys, JLO, and it's got a great youth vibe, and the hotel is at the centre of the Las Vegas strip. You can't beat it!
As you see it, how have entertainment facilities, venues, celebrity performers, and events in Las Vegas – and elsewhere in the world – evolved in recent years?
They have evolved, but the casinos have taken a less ownership role in shows, and are instead renting their rooms to larger companies to produce their shows, like Base Entertainment, AEG etc. So the hotel basically rents the theatre to another owner, and that does change the game a lot. Back in the day hotels took direct responsibility for their shows and stars. Not so much today.
Is it possible for you to improve on what is already an extended and impressive body of work, and gripping performances in both Live and Filmed venues? 
Sure … there is always room for improvement. If you don't think there is – as a performer – then you're dead in the water. You always have to keep creating, and looking ahead.
How has social media impacted you, and your career?
HUGE… In the last 2 years, over ½ billion people have seen my videos online. It's the NEW NETWORK TV … I have been seen more online in the last 2 years than I have over the last 20 years on TV and worldwide. It's a game changer.
What is the split between local, tourist and travelling guests that usually come to your shows in Las Vegas?
It's about 60/40 … more tourist of course, but we have a great local audience that always comes out as well.
Do you think that in today's environment, entertainment is still a significant draw to casino resort destinations? For example, in years past great performers like Sinatra, Dean Martin and Sammy Davis of the Rat Pack, and Comics like Don Rickles, Shecky Greene, Charlie Callas, and others, were huge draws for the casinos. Do you think that this is still the case for today's entertainers and performers?
I believe outside of Las Vegas YES … but in Vegas it has changed from DJ's taking over the Las Vegas strip, and Pool Parties, it has definitely affected the revenue that shows can bring in.
Promotions and incentives are an important mix of patron loyalty. Do you, or Planet Hollywood, offer any specials, or incentives, to guests purchasing tickets to your shows? If yes, how can they get them?
Yes for sure. We offer Military discounts, and we do Groupon offers throughout the year as well. Do you still do Dinner Shows, like in the old days? Or perform in smaller clubs and venues, other than the larger theatrical venues like Planet Hollywood? I don't, but I have been hired for one nighters, and these are usually dinner type shows, which is a cool throw back to the old days.
How would you sum-up the future of entertainment in Las Vegas?
It's GREAT! Bigger and Bigger stars are coming to Las Vegas, and it helps all of us, as it's still the Entertainment Capital of the World!
Thank you, Murray, for your time, and for sharing this with us, and the readers of Casino Life magazine.
Author Victor H. Royer, tirbute to his mother whom passed away December 2017. 
In Memoriam
I dedicate this article to the memory of my dear and loving Mamma, Gina, who passed away recently. Her loss has hurt me more than I can explain, or anyone could possibly understand. The quote above the photo is in Czech, and it's from a famous Czech Author.
Loosely translated, it says: "Work with dedication and perseverance, and while the roads of your life may be varied and many, your dedication will always remain the same." My Mom lived by those words, and that's why she typed them over this photo, which was her favorite picture of our family, together. If you'd like more information about the remarkable life of this equally remarkable lady, please visit my web site: www.MoreCasinoDeals.com – and follow the links on the Home Page.  
Image:  My Mom, my Dad, and me – the baby – in happier times, 1956. From 1963 to the day she died, it was only my Mom, and me. I am the last – there's no one else left.
Originally published in Casino Life Magazine December 2017