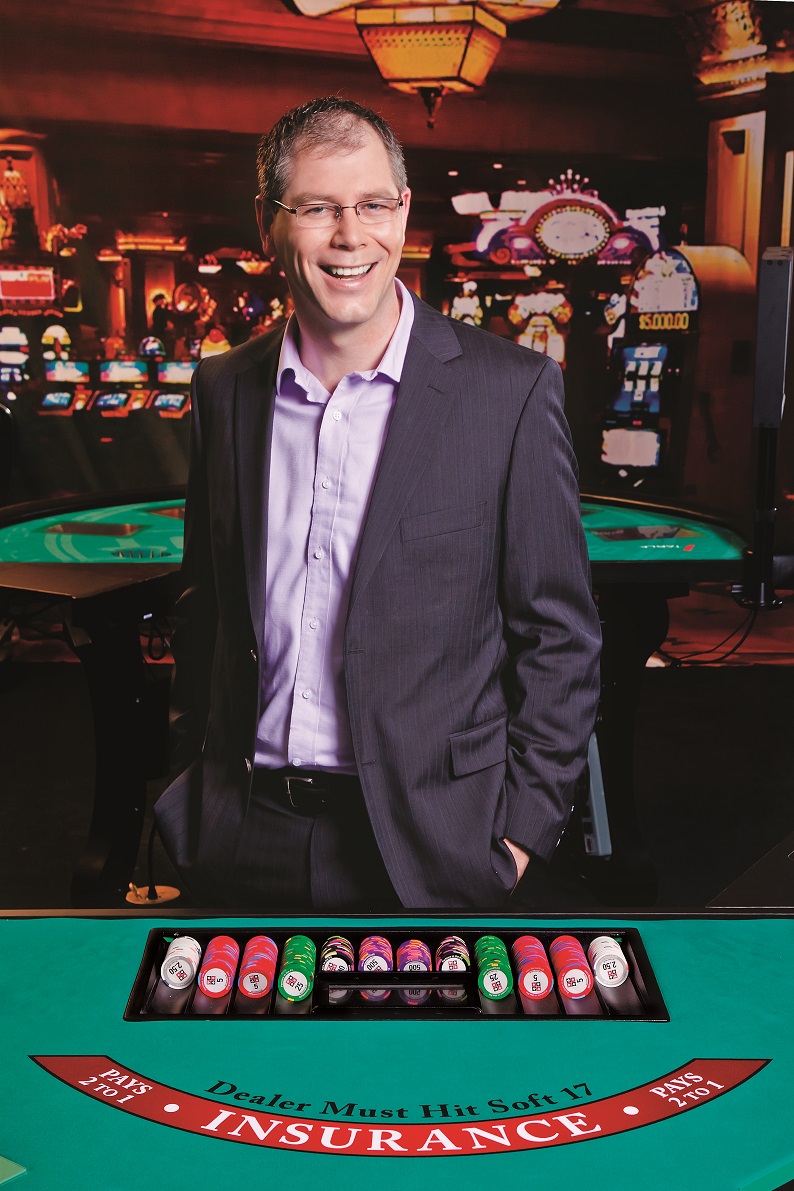 In spite of a 19-hour time difference, Adrian Halpenny of Bally Technologies was able to have a long, pleasant conversation with Jack Bulavsky, Special Assignment Correspondent for Casino Life.
Adrian Halpenny became Bally Technologies' Senior Vice President of Australia and Europe when Bally acquired SHFL entertainment in November 2013. Since October 2010, he had been serving as President of SHFL entertainment Australia. Prior to that position, he was Director of Operations and has been in the electronics manufacturing industry for a number of years. Prior to joining SHFL entertainment, Halpenny held the position of General Manager, Startronics for five years and has also held operational leadership roles with ACL Automotive Components.
How are things going since the acquisition by Bally?
It has certainly been an extremely busy time. We finished up a financial year for SHFL entertainment and then handled a transition to Bally Technologies in a period of weeks so even though I am laughing about it now, we all went through an amazing time.  So far, it has been a seamless process because SHFL and Bally had similar cultures and are extremely familiar with the product lines they specialize in.  Holistically, there has not being a lot of change with the familiar faces remaining within the organization, which is a good thing.  Speaking on behalf of the Australian and European businesses, we were very excited to be starting 2014 as Bally and what that means to our company's future.  I certainly know our customers are excited because I've had the opportunity to catch up with some at ICE.  It's all good.
What are the challenges of being in charge of two regions - one in the Southern Hemisphere and the other in Northern Hemisphere? 
This question brings a smile to my face when I quickly realize how lucky I could be by having a year of endless summers if I structured six months of the year in Australia and six months of the year in Europe.  In all seriousness if this was 20 years ago, it would be a significant issue but technology overcomes the tyranny of distance and I'm used to working in multiple time zones. That's because I had responsibilities for Australia and Asia for the last three years while contributing to the U.S. businesses previously.   
How do you divide your time between Australia and Europe? And how many miles do you fly a year? Any tips on how to travel these many miles comfortably?
I'm Australian-based but fortunate to have extremely professional management teams in both regions that are capable of continuing the operations when I'm not there. However, if I need to be in Europe I'm there and if I need to be in Australia I'm there.  Our European customers already know Axel Grohs and Marco Herrera quite well.  They have demonstrated they are able to successfully manage things and that will continue.
What are the differences between the two markets - meaning how do customers game in Australia vs. Europe? Or is there any difference?
Interestingly enough it is the similarities between the markets rather than the differences that come to the fore when analyzing both regions. While most people would understand that Australia is geographically expansive, what they may not realize is the broadness and fragmented nature of the gambling market within its shores. Australia is actually a collection of smaller markets, some, like Tasmania, very small indeed. All have their own regulatory framework, customer needs and most importantly, player expectations. These individual markets, while independent, do have a level of interaction with each other that can further influence how people play and entertain themselves. We feel that this is also an accurate portrayal of the European market and for that matter, many other parts of the world. The obvious exceptions are rule language modifications but those are simple to execute.
In short, the fact that people gamble differently within both markets is what makes them the same.
Is there a difference is the games they prefer to play or time of day they like to play?  What slot or video products are most popular in each market?
Different regions definitely have different styles of games.  This is usually a result of the regulatory conditions that apply to the market.  Generally our
Licensed Premium products like Michael Jackson have global recognition so they perform very well.  In Europe we've seen a number of titles with country specific success like Shadow Diamond and Golden Tower perform well along with our multi-games and Quick Hit Platinum and Playboy Platinum.
What Bally or SHFL games are most popular in Australia? In Europe?
We have had a lot of success in both markets and it's exciting to be able to merge Bally and SHFL to provide even more world class content.  In Australia, we have had a lot of success with our multi terminal games with our Vegas Star and Rapid products, our Reelways style games, and our multigames.  In Australia there is a definite trend towards increasing the proportion of multigame machines on a floor.
Reelways titles like 88 Fortunes™ and 5 Treasures™ on the Equinox cabinet have been phenomenally successful for us not just in Australia, but in Asia and North America too.  We introduced our first multigame in August last year - MultiDeluxe which featured 88 Fortunes, 5 Treasures and new game Diamond Eternity which added to our momentum.   From a national perspective, we've been working to align our major product releases so that players have better access to titles and this has translated into some great performance.    
The same can be said in Europe.  Europe has a sophisticated multi-terminal gaming market which is derived from the popularity of Roulette.  Some of the branded products like Michael Jackson King of Pop and Michael Jackson Wanna Be Startin' Somethin' have resonated well with players. We hope to continue appealing to players with some additional exciting branded games in the coming year. 
Do you attend G2E Las Vegas or G2E Asia? What do you take away from these shows?
I attended both of these shows because they are very relevant to what we do.
At upcoming shows in 2014, we will showcase the full range of products that covers systems, games, tables, shufflers, chippers, media content management and non-cash player marketing tools.  It's a wonderful feeling to be part of a true end-to-end gaming technology innovator with the industry's most diversified product suite. Each year, at any show, you learn from everything around you. Particularly, it's a great chance to interact with partners from around the globe to hear what they need to continue to be successful.  
As the gaming market continues to grow, what are your thoughts on how to capture that market? What do the players whom you interact with want or request?
Players are fascinating.  We've had some interesting interactions with our players, particularly in Australia, about how attached they become to certain aspects of a game.  If you make a minor adjustment to how the game plays out you can be substantially rewarded or rebuffed - so working closely with them is vital to success. 
Bally has won more than 80 awards for innovation in the past four years. I think that shows we continue to set the bar high for creating interesting gaming experiences that will appeal to players. We hope to meet that need in coming months with a multitude of new game titles, including world-class licensed branded games TITANIC™ and The Magic of David Copperfield™, along with an array of cutting-edge systems technologies and industry-leading table products.
On the systems front, operators everywhere looking to bring loyalty programs and bonuses into their properties should definitely have a look at the iVIEW Display Manager.  This is an amazing tool that brings greater transparency to gaming operations and enables non-cash marketing offers to be available directly on the player screen. It's a trailblazing product that enables floor-wide events and has even helped set the World Record for Largest Slot Tournament.
One area that I believe will be particularly exciting is our ability to deliver content across multiple devices.  Bally will soon be offering a product called Take 'n Play. It allows the same slot machine game to be played in more than one location by streaming the game content directly from the slot machine to a tablet. This product provides casinos with a convenient solution for players who get up and leave their machine to smoke, use the restroom, or have to leave when their friend or partner is ready to move on.  It's very clever and has been created from observing players and understanding what they want in gaming.