Damien Connelly visited Novomatic's pilot NBS site in Vienna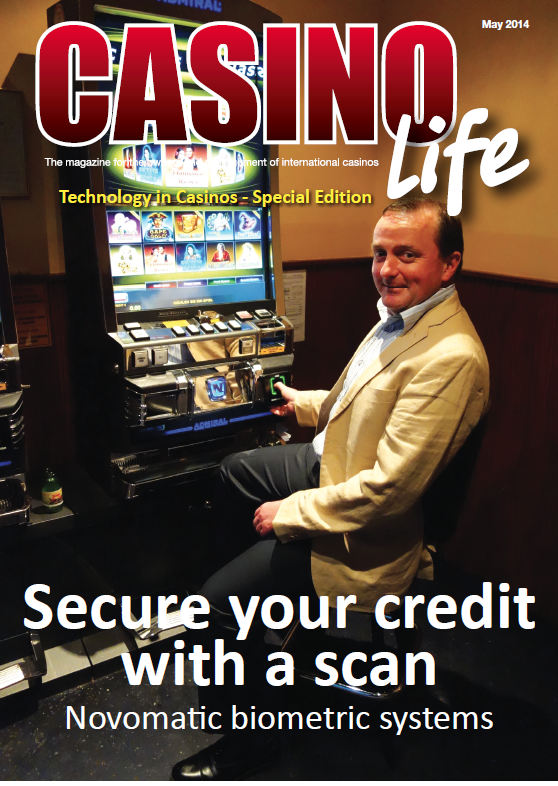 "NBS solves so many of the problems of TiTo and cashless, that I wouldn't go back...NBS is a much better system," stated Mr. Tekin Aykut, manager of the property where the pilot for NBS (Novomatic Biometric Systems) has been running for almost six months now. During this six months, almost 2,000 customers have registered to use NBS.
During my tour around Austria visiting a variety of Novomatic's operations, I used NBS as a customer. I found NBS to be a more convenient, easier and responsible system than the existing cashless systems I have used in casinos and gaming halls around the world. With NBS, you load your credits onto your thumb (or whatever is used for the biometric scan) and then just get on with gambling. If you need to load up more money or cashout your winnings, it's the same process as existing cashless systems, easing customer adoption anxieties.
NBS is a new product that is in the pilot stage, so there will still be bugs and operational issues to overcome. Once such points of detail have been addressed, then I think NBS is a perfect system for today's multi-channel gambling environment. Especially when you look at the history behind biometrics.
What are biometrics?
Biometrics literally measure life: the word is derived from the Greek "bio" (life) and "metrics" (measure). Biometrics have been widely used in other industries for almost 20 years now. One of the first large-scale uses was at the 1996 Atlanta Olympic Games. The biometric industry was given a big boost in 1997 by the introduction of the first commercial interoperability standard. Compare that to the adoption of TCP/IP in 1983 as the communications interoperability standard for what we know today as the Internet, and you can see that biometrics is still a young technology. Yet a technology that, I believe, offers a perfect fit for casinos, gaming halls, and online/mobile.
Upwardly Mobile
Technophiles among us already know all about the fingerprint readers on the latest smartphones, including Apple's iPhone 5s and Samsung Galaxy S5. Samsung has a partnership with Paypal to allow the S5 biometric fingerprint reader to authenticate mobile payments. With Apple's Touch ID, customers can use their fingerprint to authorise purchases from the iTunes Store and more. Visa is also currently testing biometric payment systems.
Given biometric technology is still maturing, there will be hurdles to overcome. As these challenges are solved, the technology matures, and as customers become more comfortable using biometric devices such as fingerprint scanners to make payments, they will also become more comfortable using biometric systems to make payments when they gamble. A leading biometric consultancy forecasts the consumer biometrics payment market is currently growing 40% year-on-year. If NBS could bring more money into the gambling industry in a way similar to how bill validators helped grow GGR by making the customer experience easier, then it would be a perfect solution. Which brings me to my visit to the test site of NBS in Vienna.
Registration
This was quick, simple and anonymous; it is important to distinguish the anonymity for this pilot project, as customer fingerprints are not stored for any purpose other than ensuring accurate customer identification to access Novomatic's gaming operations and to credit/cashout on the machines. You scan whatever finger(s) you wish on whatever hand(s) you chose, and an anonymous account is created for you. If preferred by customers and/or required by regulators, instead of scanning fingerprints NBS can be setup for other biometric scanning, such as iris scanning.
As I no longer look like I am 18 years old, I was not asked to provide proof of age. If, however, I did look like I was 18 or so, then I would have had to provide proof. In discussions with the property manager, Tekin Aykut, this was a major benefit of the NBS system as "no younger people try to enter anymore." NBS offers another way to ensure responsible gaming policies are effectively implemented 24/7. As the NBS system is capable of being installed on gaming machines and in online/mobile gaming environments (via payment devices), it is currently the only solution I know of where one system can extend responsible gaming to all channels customers use to gamble.
Access Control
Forget about the Hollywood idea of cutting people's fingers off and using these to pretend to be someone else; that doesn't work. NBS is harder to fool than existing cashless systems, thus making it much tougher for banned, unregistered and/or underage people to gain access to gambling areas - and play gambling machines. For example, if a banned player used makeup to change their appearance, they could fool facial recognition systems, while NBS is intelligent and active enough to recognise and refuse access/play to that banned player.
NBS is a more intelligent and active system than the current 'passive' cashless systems. This makes it great for responsible gaming. In fact, I could see NBS being used by casinos and gaming halls to redesign their floors so they become easier - and safer - for the general public to use more frequently. Just think of all those staffed identification barriers at the entrances of thousands of casinos around the world...if you can remove those barriers - or at the very least automate them - then the gain would be twofold: 1) a better customer experience of your casino(s) as all those 'inhospitable' identification barriers would be removed; and 2) a reduction in staffing costs...OR an opportunity to put more staff on the floor to improve the customer experience.
More Secure. More Relaxed
Gains from NBS go beyond reducing operational costs. With everything transacted on your fingertip (literally!), customers don't need tickets or cards anymore. As Tekin Aykut noted, "Our customers have found NBS to be a big improvement as they can't lose their tickets or cards now; that used to be a problem now and again when people would go to the toilet or go outside. Our customers also find NBS to be more secure to use as there are no tickets, so it's not possible for someone to steal our customers' tickets before they have cashed-out. That makes our customers feel more relaxed, both inside and outside our property."
Other operational improvements Mr. Aykut noted were NBS' ease-of-use and its higher levels of control. For ease-of-use, Mr. Aykut has actually seen more customers using his property since NBS was introduced; NBS has attracted new customers. For higher control, this relates to his being significantly more confident that no underage, unregistered or banned players can now gamble at his property as each slot machine has an NBS biometric reader, and each access point/door the same...almost like the 2-step identification that is becoming more commonly used by websites to better ensure customer security.
As a technophile, I have a penchant for new technology, especially if it benefits the customer experience, grows revenues, reduces costs, and/or improves responsible gaming. In chatting with Mr. Aykut, he saw NBS deliver against all of these. Maybe it's time you took a closer look at NBS to see if/how it could benefit your operations.