Zackary Milardo President of Preserved Interiors of San Diego takes time out to chat to Chris Sanson.
When was the company founded & what was your inspiration behind setting up the company?
Preserved Interiors was first established in San Diego, CA in 1995. Since then we have provided our innovative quality products and design to over 14 countries.  We have worked on projects ranging from private mansion residences to major Hotels & Casinos, restaurants, major airports shopping malls, medical buildings, production movie sets and more. My inspiration was primarily derived from  the beauty of the actual  palm trees and the fact that we create beauty from real parts of the tree which are preserved. This to me was very interesting and at the same time   eco friendly since  basically we create beauty from re-cycled parts from a real palm tree.
Quality, reliability and value for money, have been the guiding principles when considering any expenditure especially in recent years for many Casino operations, when matched with alternative suppliers, how does Preserved Interiors compare based on those three key factors?
Quality:  We have a very strict quality control team to ensure that our preserved palms are built and designed to meet the most demanding casino & hotel customers
Reliability: Our preserved palms are truly built to last  to ensure many years of lasting beauty and décor. Our palm  trunks are guaranteed for 15 years and 4 years on the palm fronds
Value for Money:   Without question, we offer outstanding value for the money. When clients compare our prices with other similar companies they see a substantial savings with Preserved Interiors.
What is the average period of time between the order being placed and it arriving at its destination within the US as well as International destinations?
It really depends on the scope of the project. It can vary from several weeks to several months. On average we always meet our estimated production deadline  dates to ensure timely delivery to our clients.
Quality control in the manufacturing process is vital in order to maintain a high standard for the organisations products, what do you have in place to insure you uphold the continuity that distinguishes your organisation from alternatives? . 
We have established long term relationships with California & Florida   palm tree growers who ensure the utmost pristine quality for our  palm bark and palm fronds
Providing a visual impact is essential for any destination resort Casino, would you like to comment on as to why Preserved Interiors provide that added environmental atmosphere which works so effectively.  We work very closely with the project interior designers and landscape architects to create the most realistic and botanically correct finished product. In addition, our custom design construction allows for much greater aesthetics, visual appeal, and true to life uniformity of size and shape.  In the end most people cannot tell the difference between a live palm or a preserved palm which makes our Casino operators and owners very happy.
Can your displays provide other functions such as light and sound? 
Yes In addition our palms can also function as a lighting fixture, speaker tower or security camera. The trunks of preserved palms are hollow allowing the wiring of any devise to be hidden from view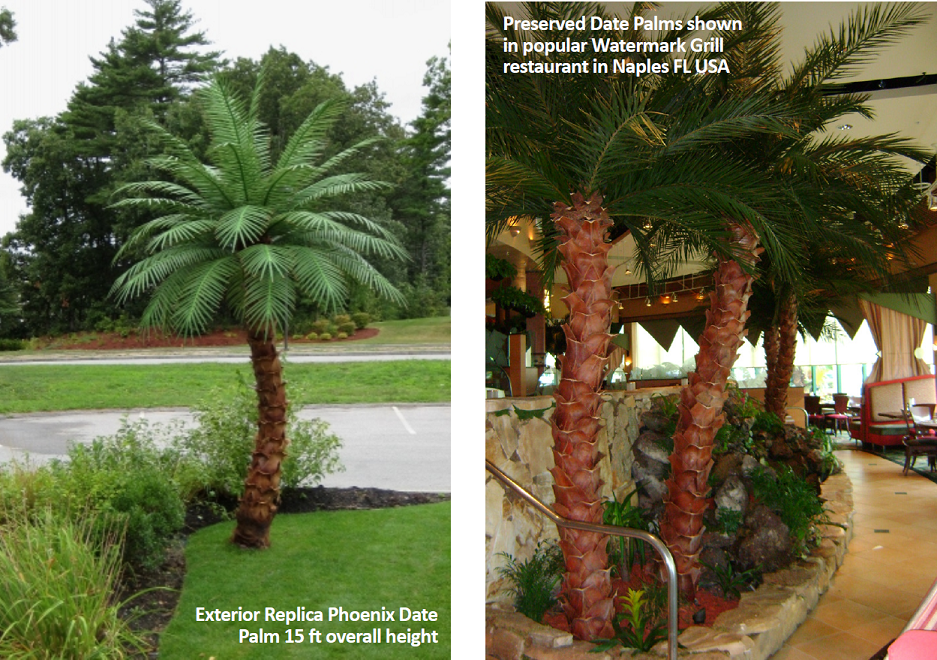 And finally what key aspects of your company would you like to add as to why Preserved Interiors should be Casino operators' first choice supplier?
1)      We offer onsite installations worldwide by our team of installation specialist experts who will meticulously handle every detail of your project from beginning to end to ensure the ultimate finished look as per your designer's specifications.
2)     Great Value for the Money: Our prices are very competitive and will save you considerably when compared to the competition.
3)     Excellent Service and Communication. We strive to constantly provide updated information  on the status of our production related to your project. WE are always on schedule and work very hard to keeo yu the Casino Operator happy