Glyn Thomas chats to with Richard Noble Chief Operating Officer at Aspers Group Limited.
I last spoke to Richard Noble some two and a half years back as he was preparing the final countdown for Aspers Casino at Westfield to open prior to the Olympics. You could sense the nerves jangling a bit – but also a calm resolution that it would all turn out OK. And so it did with 12,000 visitors crossing the threshold in the first day. Time has passed but still the visitors keep coming, not necessarily because of the location, but because like many of the Aspers venues, Westfield is a great entertainment package. This time I caught up with Richard Noble as he was about to enter a "retreat" – a management event with senior executives at a well-known UK horse racing venue of all things – to mull over progress and what lies ahead.
Could we commence with a brief reminder to those less familiar with UK gaming the history of Aspers?
Aspers Group is a straight 50%/50% joint venture between Damian Aspinall, Aspers Chairman and CEO, and Crown Limited, one of Australia's largest entertainment groups who own and operate Australia's leading premium casinos resorts, including Crown Casino in Melbourne and Burswood in Perth. Aspers Group operate 4 casinos in the UK, 2 1968 licence casinos in Newcastle and Northampton, and the only 2 2005 Act licence casinos operating in Newham and Milton Keynes.
Newcastle was Aspers first property to open in October 2005 and certainly raised the benchmark for the UK. Our strategy has been to operate high volume properties catering for both the transactional and leisure patron in a modern environment. Patrons visit our properties for the overall experience, not just to gamble. The average UK casino has approximately 2,000 visitors a week, Newcastle has over 14,000 a week, and Stratford over 32,000!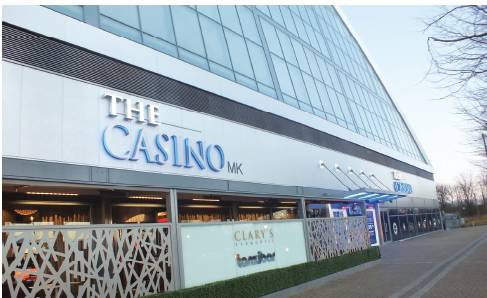 How was 2013 for Aspers
Overall very good. The highlight for the group was successfully opening our 2nd Large License casino in MK. We're proud to have opened the only 2 properties under the 2005 Act, and both are trading well ahead of expectations.
The light level of the ambient lighting in Aspers Casinos is very subtle yet creates very effective environment for those in groups or visiting on their own.
Traditionally casinos were lit to a higher ambient level. Aspers approach to lighting is to create a comfortable environment that people feel relaxed in and want to stay, not just to bet but to socialise, eat and drink.
The move forward in LED technology and utilising full lighting control systems allows us to change the mood and feel of the space at the touch of a button. This comes into its own on large sporting events and international poker tournaments.
Has the mix of machines Slots and multiplayers, that involve Novomatic IGT R Franco Interblock and tables with wheels and displays from Cammegh been influenced by their success with the other Aspers Casinos?
The aim is always to offer a wide selection of playing opportunities to our customers, by working very closely with keys suppliers like Novomatic, IGT, Franco, Interblock and Cammegh we're able to fine tune the gaming offer and provide a great playing experience, this has been a key element to our success and is part of our strategy for all new casino openings.  
An impressive bar area along with lighting and good quality food have all clearly combined with high quality  customer service, all of which have combined wouldn't you agree in part to the success of Aspers?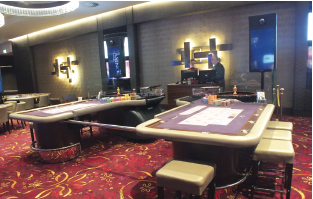 Without a doubt. We deliberately site our properties in high footfall locations alongside other leisure activities, and then offer a full range of activities once patrons decide to visit Aspers. Over 30% of our patrons are female, and 35% don't even gamble, instead choosing to enjoy our bars, restaurants and entertainment. We pride ourselves on excellent customer service, and every member of the team strives to make a positive difference.
Has there been any influences from Casinos in Las Vegas involved in layout and design of Aspers Casinos?
Our Property Director, Gary Hosie, is passionate about delivering the best casino offer in the UK, the design and layout have come from visiting many Casinos throughout the Globe, and more importantly through listening to the operators needs and requirements.  Our design is ever evolving, and we look forward to seeing our next reincarnation in the near future. Crown also has significant resource which we can draw upon to assist us in any aspect of the business, including design, layout and product, which we take advantage of from time to time.
What elements on the gaming floor in your opinion present the biggest challenges & opportunities?
The biggest challenge is still the number of slot machines we're permitted in a 68 Act Licensed casino. It really makes no sense at all to only have 20 slots machines available for patrons to play, particularly when a property like Newcastle can have over 5,000 attendances on a busy weekend day. In Stratford and MK, where we have 150 and 108 slots respectively, we have been able to offer patrons a wide variety of games to suit all needs, which has been popularly received. In addition, the recent increase to stakes and prizes on slots has given more choice to players.
Over recent years Aspers has invested in new Casinos that have brought much needed jobs along with training and development of staff in what have been challenging economic times?
Yes, we opened Stratford with 400 jobs, and now employee over 650 just two years later. In MK we have created a further 200 jobs, and expect that to grow to over 300. We made a firm commitment in both communities to create local jobs for local people, with an emphasis on long-term unemployed, unskilled and young people. Over 43% of new starters in MK were claiming benefits before starting with us. We have also been working closely with MK College for over 5 years now, and have put together bespoke training packages for our new recruits.
The impression one is met with upon entering the casino is of an operation who's staff are relaxed and professional which combined with the environment, I found very appealing as the combination works in attracting patrons to the Casino whether it's to meet friends for a social drink or watch lived televised sport and put a few quid on the game as well as try-out there luck on the EGMs or tables.
What would you say are some of the unique aspects about Aspers Casinos?
From the conception of Aspers 10 years ago, it was the clear vision of our chairman Damian to modernise the UK gaming industry. We want our casinos to be accessible for the public and were the first operator to remove membership in May 2008. Our business model is based on high volume and our average spend per visit ranges from £15-£30, no different to a night out at many leisure activities. We pride ourselves on high levels of customer service and challenge ourselves to find new and innovative ways to delight our customers.
 With the Poker popularity continuing to increase, how is Aspers developing it's provisions to cater for this global phenomenon?
Aspers have certainly done our bit to help grow Poker in the UK. We regularly host international tournaments and events in our properties, which bring players from all over the world to experience poker at its best. We have a clear strategy to develop new players by offering learn to play sessions, low stake tournaments and cash games. Of course we offer an array of larger games too to suit all players, but we are very conscious of ensuring players are playing at a level that is comfortable for them. Aspers Stratford has welcomed some of the most recognised and famous poker players in the world for high profile televised events and with 400 seats available it has gained the reputation of being a key venue in Europe. 
Can you confirm that Aspers were the first UK operator to install the Organic EGM from the manufacturer Interblock at Aspers Westfield which have proven very popular addition to your range of EGM's
Yes, that's right. We opened with 12 terminals, and have since increased to 36.
How popular is the cashless gaming option and  is it operational on all gaming devices?
We operate TITO across all our slots and electronic product, and have a number of HESS voucher redemption terminals in convenient locations to help with the cash out process.
Environmental concerns are always an important factor in present day what personal and business life how has Aspers contributed to lowering its carbon foot print in its operations?
We made a hearted decision 6 years ago to reduce our energy consumption, and during this period we have seen a 27% reduction, even with our casinos now operating 24/7!  We are very happy to have delivered our most recent Casino in Milton Keynes to a BREEAM rating of Excellent, this further demonstrates Aspers ongoing commitment in reducing carbon.
Are there any plans for expansion at the present time with the Casino operation?
We have a 1968 license in Bournemouth that we are considering and are also keeping an eye on the 2005 license process in Southampton. Unfortunately unless the Government consider harmonisation of licenses and increase the number of slot machines in a 1968 license, or tackle portability then the UK has limited opportunities.
And finally what amongst all these impressive initiatives and developments at Aspers that excites you most for 2014?
Continuing to oversee the growth of our existing properties and adding one or two more to the portfolio!