Hard Rocksino Northfield Park is Definitely a Property that Rocks 'N Experience. By Bob Ambrose
Those of you that have read my editorials know that I like an operational message on point. Having been on both the development and operational side of the gaming and hospitality industry, I have an appreciation for not only the development process but also the leadership and team commitment needed to take an operation to peak performance and sustain its model of operational excellence.
I found such an operation located just 20 miles outside of Cleveland, Ohio. The Hard Rock Rocksino Northfield Park is a 200,000 sq. ft. synergistic presentation all served on the pallet of the Hard Rock brand. The customer experiences are in the details of its variety of dining options, a 2200 VLT "Vegas" gaming floor, state of the art harness racing track and entertainment venues offering both international and local talent.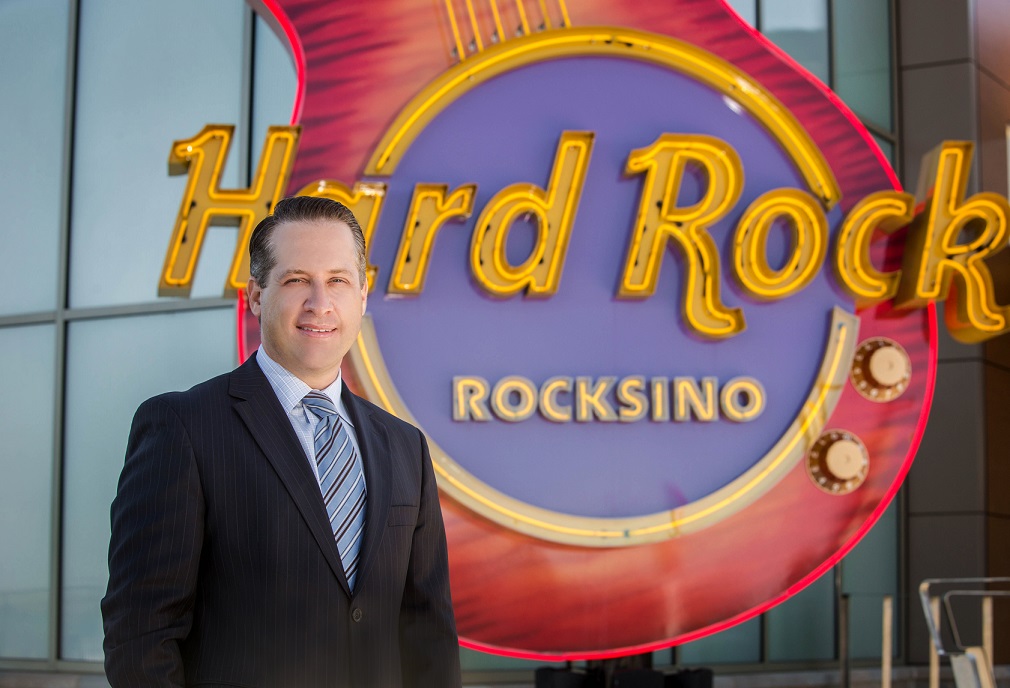 Image: Mark Birtha, Rocksino President, Hard Rock International
Ohio legalized casinos in 2009 and authorized eleven gaming operations which includes four land-based casinos and seven racetrack racinos with video lottery terminals (VLTs.) According to the American Gaming Associations Executive Summary (2016), Ohio has seen a double digit increase in gaming revenue year over year.
At the centre of this game driven, and non-gaming supported, universe in Ohio I found Mark Birtha, the property President with Hard Rock International. As I am always the inquisitive Professor, we engaged in a conversation about Mark's industry history, operating a global brand in a local's market, leadership and team building.
You are a Cornell University graduate, with decades of industry experience that is literally a "Who's Who" of major property resorts. You have developed and implemented major hospitality projects, held executive positions in operations both in hotels and casinos, charted new paths for yourself in tribal gaming, worked internationally, and now are leading a major branded facility in Ohio. And I might add in your off hours you have been involved in conferences, civic organizations, and academic boards and have authored many industry articles.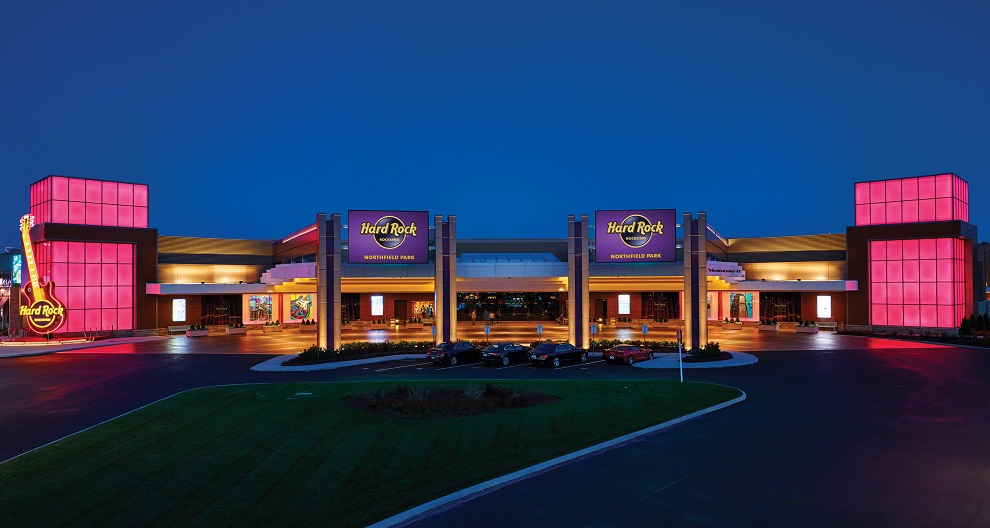 Image:The Hard Rock Rocksino Northfield Park Awarded #1 regional gaming destination, #1 steakhouse, #1 entertainment venue, Top 100 Workplace and countless other recognitions by both local and regional patrons
At the end of the day how do you re-direct your interest?
I love to be challenged and this is a dynamic, ever evolving industry. Hard Rock International is going through an evolution of its own investing more resources and focus on gaming and it's great to be a part of that energy and environment. Our industry is becoming more of a mature business; but at the same time, it is also continuing to differentiate itself as a complete entertainment experience. For more than 15 years, I have been espousing the power and performance of retail, dining and entertainment (RDE). There continues to be more opportunity for the gaming industry to use these so-called "amenities" as revenue/profit centres, product differentiators, and magnets to expand our existing clientele. I enjoy being an integral part of that conversation and proving that successful formula at Hard Rock Rocksino Northfield Park. At the same time, there is clearly a focus on technology and how it is going to shape our current business and the experience of the future. And finally, I truly enjoy giving back to my local community and also mentoring future leaders. I know that will be part of my legacy and contribution to this great industry.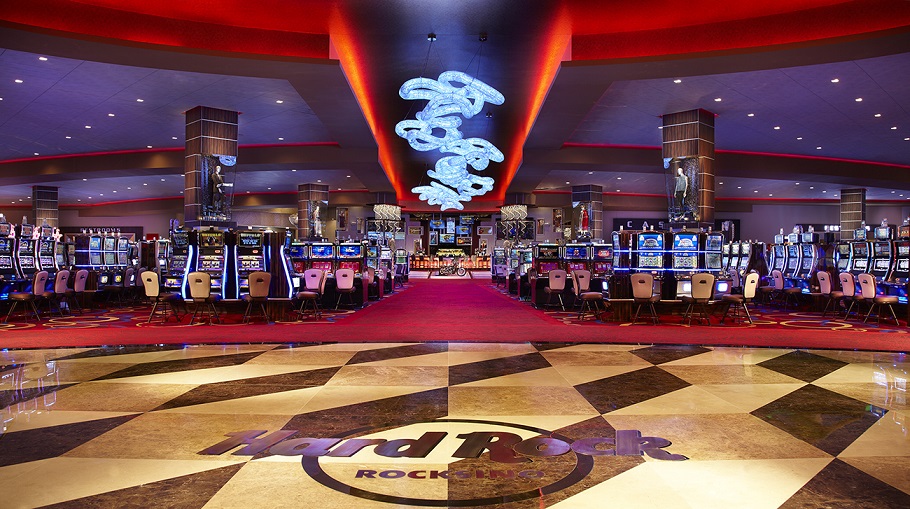 Image:  A state of the art "Vegas" style gaming floor
It seems that being visible and hands on is part of your leadership model. Can you share how you developed your model of leadership and who were some of your mentors?
I was extremely fortunate to enter this industry at a robust time and more importantly be surrounded by visionaries, leaders and tremendous mentors. I started my career working at the Mirage and opened the Bellagio under the one-and-only Steve Wynn. Mr. Wynn has tremendous passion for what he does and is so focused on each and every detail of the guest experience from the building design to execution of world class service. I learned to be a dreamer and also be attentive to the details; and it has served me well my entire career. A bit further in my career, I was fortunate to work on a gaming and hotel development in Las Vegas with Bill Marriott. What I saw in his leadership style that resonated with me was his mantra of "take care of your people and they will take care of your guests." That simple belief has made Marriott the biggest hotel company in the world and has proven time and again to be such an integral part of the success story at every stop in my career. Those two tenets have been the foundation of my leadership model, coupled with "walking the talk", "surprise and delight", and being willing to do any job at any time to support my team towards our collective success.
Image:The Club Velvet is drinks, casual dining, award winning comedy acts, live music or exclusive events with a total Vegas feel
Former CEO of Chrysler Corp, Lee Iacocca, stated in his book; Where have All the Leaders Gone, "… here is the thing I learned as a CEO: you succeed or fail based on your team." Can you share your philosophy on TEAM building?
Can you share your philosophy on TEAM building?
Such a great question and so critical to overall success. It's all about the people and the team of course. There has, first and foremost, to be a focused vision, something instilled in our team at The Rocksino from our owner Mr. Brock Milstein. This is further strengthened by a solid culture, and there have been few companies in my experience that have anything close to the culture, beliefs and mottos of Hard Rock International. It is imperative that all of the team members understand and embody those "truths", from top to bottom. Our executives and I pick up trash, greet guests and spend time on the gaming floor. We know the guests by name, as well as the employees, and spend time "walking" in each of their shoes. At the same time, there needs to be an environment of mentoring and professional growth so that team members can learn and continue to advance their careers. More than anything, we try and build real relationships with our teammates and our guests based on knowing what is important to them, and their needs and wants. We strive to exceed their expectations in our delivery of authentic experiences to each constituent.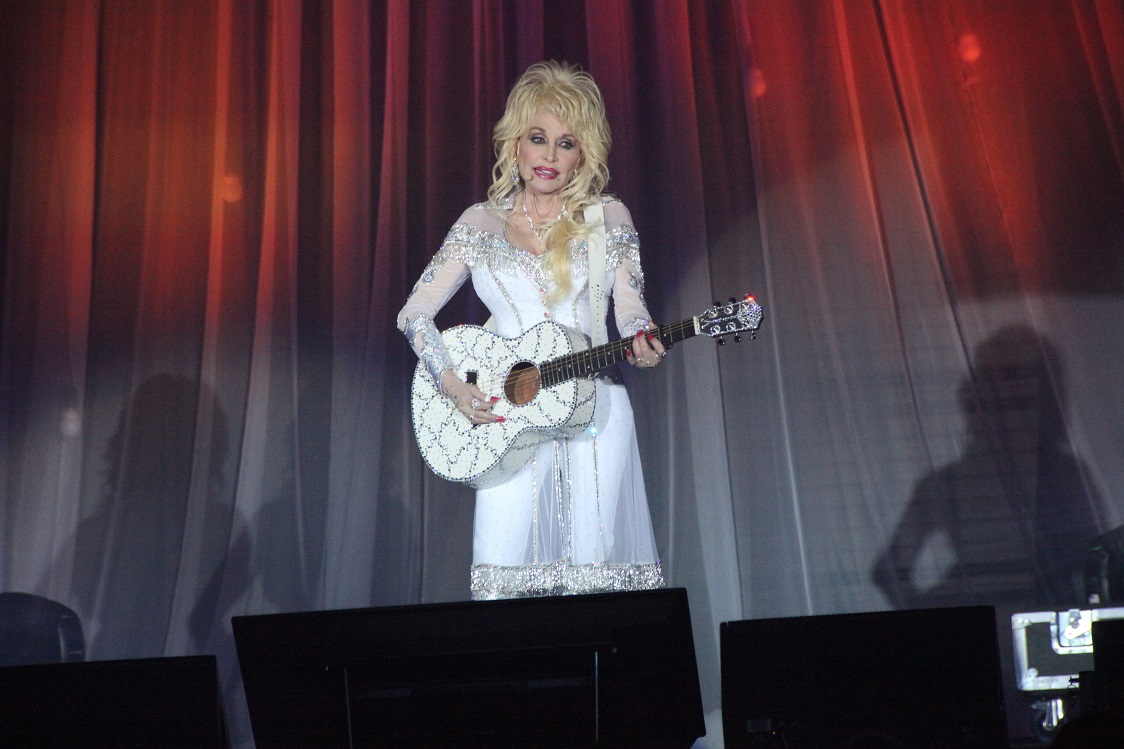 Image: Great live celebrity entertainment always at the Hard Rock
I tell my students of hospitality that each part of the industry is segmented by different amenity units such as: culinary lodging and casino, for example. How do you see the hospitality industry of the future?
When I first started my careers, we clearly worked in Casinos, Gaming Establishments. My first management roles were in food and beverage. Seeing what Steve Wynn and Sheldon Adelson were doing in Las Vegas to harness the power of the complete experience (and all of the amenities and offerings that comprise it) laid the foundation for my focus for years to come. There were integrated resorts before we called them that; we just began to shift both our understanding of what business we were in and the expectations and perceptions of our guests. We solely focused on casino customers and now we host the largest conventions or offer every celebrity chef or signature spa experience and so much more—as part of the gaming experience and as a collective and independent experience of its own. What will be fascinating to watch in the future is the intersection of technology and guest service. Hospitality is focused on making the guest experience personalized and efficient and all-encompassing but at the same time has to ensure we make it hospitable, human and interconnected. Hospitality is literally taking care of people in your "home", and there will surely be new ways to evolve and achieve this in the new AirBnb and Uber generation.
Image: The Center Bar makes its statement as the place to be seen at the heart of the Hard Rock
The "Rocksino" opened in 2013 and has had a few years to establish its footprint in the Ohio locals/regional market. A look at the website and I immediately saw the local connection to the community in both the display of current Cleveland activities as well as local community events. Your property has shown by action, the definition of a local casino/hospitality property as part of the community.
How has that helped to define the property?
We are proud to say that we are recognized as the region's premier destination for gaming, dining and entertainment. It all starts with a local ownership and global brand operating marriage, taking the best of both worlds and infusing them into a product that delivers "wow" experiences with the sensitivity to, and nuances of, the people who live in the area. Our history begins with the iconic Northfield Park Harness Track which is celebrating its 60th year of operations. In our short history since opening, the Hard Rock Rocksino Northfield Park has been awarded #1 regional gaming destination, #1 steakhouse, #1 entertainment venue, Top 100 Workplace and countless other recognitions voted on by our local and regional patrons. We continue to raise the bar, reinvest in our enterprise and provide new amenities and experiences to our guests. We designed an amazing building, filled it with high quality products and services, and hired the best of the best to deliver "authentic experiences that rock" each and every day. At the same time, we have partnerships with local businesses such as Malley's Chocolates, sports legends including Bernie Kosar and the Cleveland Indians, and proudly represent the best of NE Ohio by featuring icons like musician Michael Stanley or the Cleveland skyline on our signature VLT games. It truly is a "Vegas Experience. Ohio Address"! And our values of Take Time to Be Kind, All is One, Love All Serve All and Save the Planet show our commitment to philanthropy and our local community. We have donated more than $2 million to charities in the region since we opened. People recognize that we are truly dedicated to making NE Ohio a better place for all of us to enjoy. These are some of the things that differentiate us in our marketplace.
Image: Hard Rock is an iconic brand that is over 45 years old and located in more than 70 countries around the world
The Hard Rock brand is unique and defines itself. How has this Rocksino Northfield Park complex contributed to growing the Hard Rock brand?
Hard Rock is an iconic brand that is over 45 years old and located in more than 70 countries around the world. The company is focused on evolving beyond its café foundation and is pursuing multiple opportunities in North and South America, Europe, Asia and elsewhere to grow its casino and hotel portfolio. Adding to that legacy is no easy task; but luckily there is only one Rocksino in the world today….Northfield Park! This property is truly one-of-a-kind and introduced a new and powerful regional/local gaming and entertainment model that has performed exceedingly well. At the same time, it is the first Hard Rock Racino product and its success has been noted by all in the industry. This prototype is the footprint for future Rocksinos around the world and we are excited to be part of that evolution.
How does Northfield Park encourage customers to visit other Hard Rock locations?
We are fortunate that Hard Rock has a combined portfolio of over 200 cafe, hotel and casino locations around the world, with many more coming. In the hotel and casino space, we enjoy sharing our customers with "sister" properties in the Hard Rock family both domestically and internationally. Playing at a Hard Rock in Northeast Ohio translates into travel opportunities to enjoy new experiences in Southern Florida, or Las Vegas or even the Caribbean at Punta Cana. We have a very strong network of player development and marketing executives that work closely with each other to ensure that Hard Rock amenities are available to gaming patrons around the world. Our guests can experience the same great live concerts, extraordinary meals, amazing suites, mind blowing spas, renowned golf and, of course, world class gaming, tournaments, and promotions (product and service) in their local market, as well as in destination, resort, urban and international locations around the world.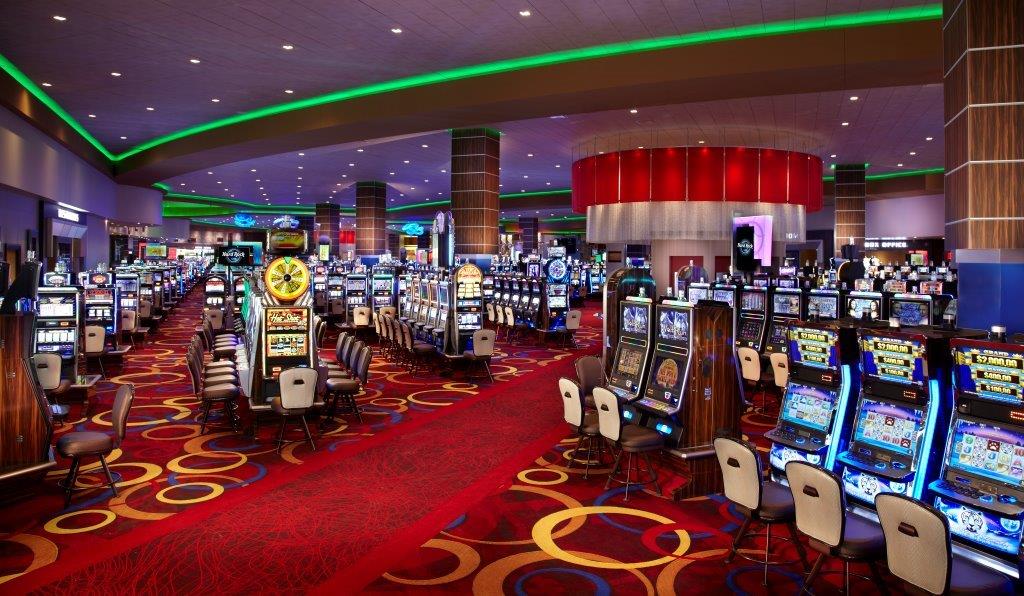 What highlights can you share about the Rock Star Rewards programme and how does it contribute to fostering long-term loyal relationships with customers?
The Rock Star Rewards programme is a comprehensive loyalty membership that our Rocksino patrons truly value. It allows us to offer tremendous incentives and perks to our patrons, as well as exclusive one-of-a-kind benefits and experiences. A player's club and loyalty program's focus is to, of course, determine the value of a guest and then to reinvest in their patronage by offering gaming, retail, dining, hotel, entertainment and other amenities that are personalized and customized to their liking. Our programme does all of that and more, including allowing for guests to ascertain benefits in other Hard Rock locations around the world. And also partake in marquee live concerts and meet-and-greet experiences with iconic music artists! In this day and age people are looking not just for a free meal or a nice room; they are looking for an experience that is life changing and memorable and can be shared with others. We love delivering on those types of promises. It's core to our Hard Rock DNA. Our branding statement here is "Find Your Rhythm", and we offer many different ways to do that for each and every discerning guest to explore and personalize their Hard Rock Rocksino Northfield Park experience.
Establishing and operating a successful integrated customer experience does not happen by accident. It takes knowledge, careful planning, leadership, a great team effort and an in depth understanding of the market.
In the Ohio market, the global brand of the Hard Rock name assures its guest not only of a continuity of customer service in presentation, but a cutting edge-unique product environment in its foundation that's built on "being different from the competition." That is truly the definition of a "blue ocean" marketing strategy.
There is no question that Mark, his team and the Hard Rock brand will continue to deliver to the Ohio market as well as define it!
Robert Ambrose is a casino/hospitality consultant, a former casino industry executive and university instructor. His experience includes an MS in Hospitality, positions in gaming operations management, commercial casino development and university instruction in hospitality and gaming. He continually collaborates with industry professionals and reports about his research through consulting, academic lectures and the publication of his articles. Email: r.ambrose16@gmail.com   @bobambrose