Ian Crosby, Sales and Marketing Director, ZYTRONIC, Chats to Glyn Thomas
Could you commence this interview with a brief history of the company from when it was launched to present day?
At Zytronic we regard ourselves as leaders in projected capacitive touch technology, specializing in highly durable and stable products that provide precision at the fingertips of the end user, irrespective of the surrounding environment. Our company's core competence is in glass processing and lamination technology - a field in which we have over 40 years' experience. We identified the touch screen market as a growth opportunity during the 1990s, when self-service equipment such as ATMs were becoming more popular globally. With our expertise in glass, it was a logical step and the production and sale of touch sensors now represents the majority of our business. Over the last 15 years, we've invested millions of dollars in the development of our own sopisticated, touch control electronics and cutting-edge plant and equipment. We are committed to push the boundaries of what is possible with touch screens and I believe that our fundamental glass know-how, proprietary touch electronics and highly flexible production processes really set us apart from other manufacturers in the touch screen industry. We listed on the London Stock Exchange as Zytronic plc in July 2000. As our export sales  have grown (now 95%  of our revenue comes from outside the UK) we have expanded our global presence; forming  Zytronic Inc. in 2014 to support our customers in  North America, followed by the establishment of  a representative office in Taiwan, responsible for Greater China, and the creation of Zytronic Japan in 2015.
What has been the reaction from Casino & Gaming manufacturers and operators at G2E Las Vegas 2017?
I believe the new products we demonstrated at  G2E will help make games more immersive and exciting to play, crucially providing slot machine  manufacturers with an opportunity to differentiate their hardware - catching and holding players  attention. G2E is a key opportunity for us to reach out, not only to the console manufacturers that represent our customer base, but also to inform players and casino operators of the benefits our unique touch technology offers. G2E is also a great chance to watch for the latest trends and listen to our customers and the challenges that they face, especially in appealing to new generations of players. These conversations steer our research and development. 
Your slogan is 'The World At Your Fingertips'. Please explain?
To millennials, a display is for touching not just looking at, and consequently the use of touch screens has grown rapidly in our everyday lives. However, the touch screen form-factors used in consumer electronics are quite basic as they are
typically designed for huge volume, lowest cost mass production. Extending that approach to the larger displays used in slot machines and table games results in a plethora of very similar looking slot machines. We advocate a different approach.
By closely collaborating with our customers and leveraging our expertise in low volume customisation, we are able to help them design and use touch screen technology in compelling new ways that work for them and their customers.
Can you explain what is meant by the words 'capacitive technology'?
There are numerous forms of capacitive touch technology – all of which are fundamentally electrical in nature, using a small charge applied through conductive layers within a screen and then measuring how that charge is altered when a user approaches or touches the screen. Zytronic focuses upon a method of touch sensing using a principle called projected capacitance (or increasingly 'p-cap'). Over the last twenty years, we've developed two variants of p-cap touch technology, which we call PCT™ and MPCT™. PCT™ works by sensing minute frequency changes in an X-Y matrix of conductive traces. These microscopic traces are laminated to the rear of the sensor and a small charge is applied via the touch controller.
When a finger or conductive stylus approaches the surface of the screen, capacitive coupling occurs between the finger and the energised traces immediately beneath, disrupting the sensor's electromagnetic field and altering the frequency. The touch controller monitors the frequency in each trace and the touch position is calculated by determining which X and Y trace is closest to this peak change, which is then output to the host Operating System as a coordinate. This method is so sensitive that a touch can be detected through very thick glass overlays. Unlike conventional capacitive, sound and optical based touch sensing approaches, the active component of PCT™ is embedded behind the front substrate, ensuring protection, long life, and stability. This method of p-cap sensing is also referred to as "selfcapacitive". MPCT™ p-cap technology works through a two-layer matrix of microscopic conductive cells laminated to the rear of the sensor. A small charge is applied to one layer via the touch controller, which in turn passes to the other. As with PCT, the presence of a finger or conductive stylus over the cells, alters the amount and rate at which the charge transfers from one adjacent layer of cells to the other. The key difference between PCT and MPCT, is that this method can track many simultaneous touch events with no compromise on accuracy or response time.
This method of touch sensing is also called "mutual capacitive". With our highly flexible manufacturing process, both types of p-cap sensors can be produced in a limitless range of designs to match display sizes from five to over ninety inches. 
How has your Touch screen Technology been received so far by the markets in which it has been launched?
We have grown in every market that we address, because customers increasingly appreciate the innate flexibility and reliability of our touch technology. We try to keep ahead of the trends in the application areas we serve, delivering innovations seen in portable consumer devices for public and commercial systems. A great example is force sensing (also known as 3D touch) where the sensor responds to the degree of pressure exerted on the screen as well as to the location of the touch. Zytronic was the one of the first to offer this capability on touch screens designed for selfservice installations. A key to making this happen, is our ownership and continued development of proprietary touch control electronics, allowing our engineers to develop custom firmware capable of measuring the increased surface area of a fingertip as pressure is applied to the touch screen.We have also been pioneers in the development of secure encrypted touch sensors for ATMs, curved touch screens for slot machines, and object recognition technology for touch tables in retail environments. What has been the secret to how Zytronic has been so successful with leading manufacturers such as Aristocrat is in being able to provide cutting edge technology that can be customised so that it can be seamlessly incorporated into the design characteristics of the manufacturers' Slot Machines.Slot machine developers are always thinking of tomorrow's player as well as today's, and so are we. Casino game developers work in an environment that is continually evolving and have always used the latest technology to engage the player and provide the most immersive possible playing experience. A walk around G2E this year, compared to say, ten years ago really highlights the change – boring looking, generic 'black box' slot machines just don't cut it anymore. Players want the hardware they're sitting at to match the cuttingedge game software they're using. With hundreds of slot machines often installed on the casino floor, competing for players attention and then holding it, is absolutely critical. Casino operators know this, and have put pressure on the slot machine manufacturers to innovate in their hardware design as well as their game play. That's where we come in – helping them create uniquely designed player interfaces, while all the time ensuring the utmost reliability.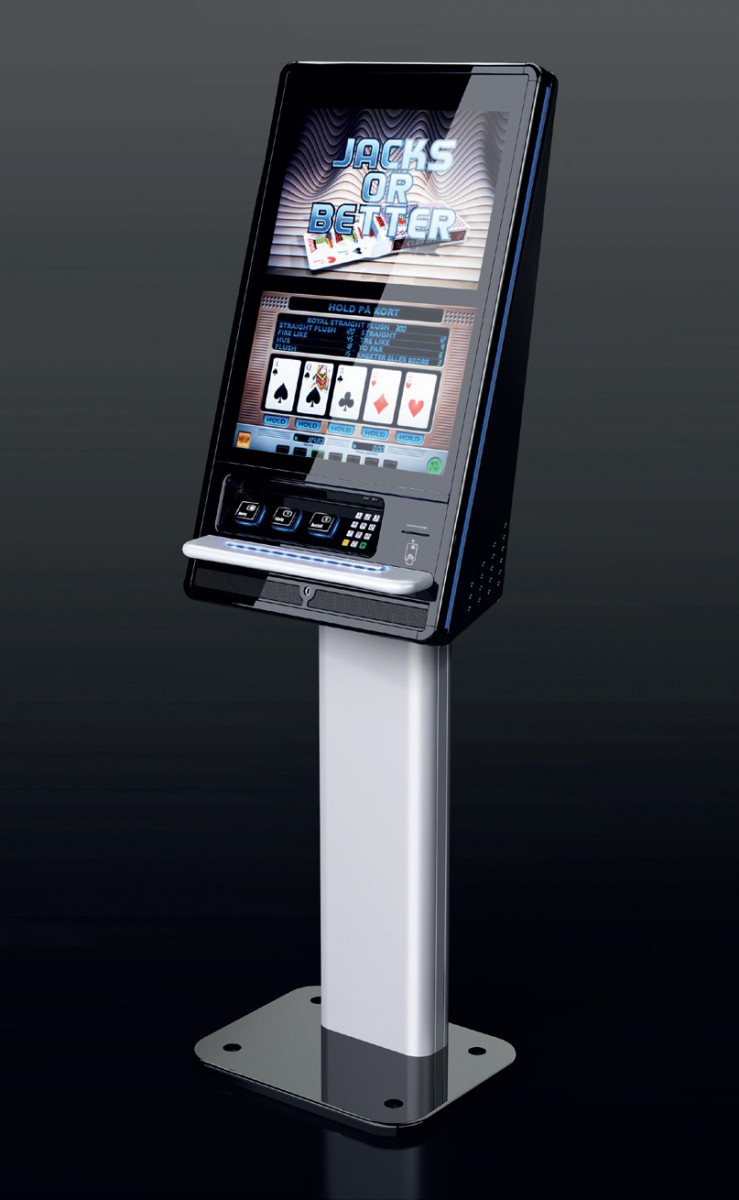 What are the key reasons behind the success of Zytronic in the Gaming industry?
As just noted above, it's that combination of total design flexibility coupled with proven durability and reliability that has helped us grow in this important market.
How do you sustain such a high level of innovation at Zytronic?
Innovation comes from understanding both our customers' needs and the technology that we provide. We are constantly looking at new ways to enhance the technology that we offer, but only by listening to our customers do we understand which of those developments are of value and will really make a difference to customers such as game developers or casino operators.
Versatility is a word designers of EGMs love to hear. What is the level of customization provided by Zytronic to clients?
Zytronic's p-cap touch sensors are available in a limitless range of shapes and sizes, and can be made from a wide variety of materials, glass or otherwise. Customers can specify whether they want a flat or curved screen, request special edge profiles, cut outs, holes and slots, as well as screen-printed logos and borders in a variety of colours. In addition, we can customise and manufacture each design of the touch sensor in small quantities with minimal tooling fees to provide exactly the appearance that is required. We are also looking at ways to add extra features and functionality, such as the Qi wireless phone charging capability showcased in the custom video button deck at G2E.
Was it the company's decision to enter into the Gaming industry strategy or were you approached by a manufacturer?
Zytronic has supplied touch screens into the entertainment and the leisure sector for over 15 years, with customers manufacturing video jukeboxes and lottery terminals deploying thousands of our touch screens all over the world. Our sales in the gaming market has significantly increased over the last two to three years as the trend towards increasingly customised slot machine design has accelerated. Touch screens technology has had, and continues to have, a significant impact on EGMs.
What are the features and benefits of Zytronics Touch screens from a Gaming applications standpoint?
Casino games are becoming more skill based to attract younger players and the performance of the touch screen becomes more critical to the system. When player is competing against player, it is especially important - indeed essential that touches
are always recorded reliably and correctly, as users will complain bitterly if the game doesn't respond instantly and accurately. Again, having ownership of the touch detection electronics as well as the sensor manufacture, allows us to develop and optimise such solutions for each of our customers.Zytronic touch sensors offer proven durability  and excellent touch response. They are unaffected by scratching and liquid spills, unlike some alternative touch technologies that have front surface components that can degrade and fail over time. Most of our touch sensors are manufactured  from rigid, thermally toughened, safety glass. This is a necessity for many casinos, as over excited customers can sometimes hit the screen during game play and the touch screen must be resistant to impact but in the event of breakage, shatter into small, relatively inert cubes, much like your car windscreen.
How important have you found that the appearance combined with the level of touch sensitivity and speed of interactivity affects the appeal and game performance of EGMs?
Appearance and the player experience go handin- hand with the design of a good game. Casinos and arcades are intense environments with lots of visual and audible stimuli, and a game really needs to compete for attention. Once a player is using the game, he or she will switch off very quickly if the touch sensor doesn't react when they touch it, or if they feel as though the game is slow to respond to their inputs. Truthfully, the touch screen isn't normally the limiting factor here – poor touch response is normally the result of a badly specified and overloaded computer inside the slot machine.
ICE will be an opportunity for the European gaming industry to experience the latest Zytronic touch innovations first-hand, including a patent pending player interface with integrated physical dials to enhance user experience, connecting physical interaction with the touch screen. The capacitive dial is fixed to the touch screen allowing the user to instinctively operate it like a mechanical device without taking their focus from the screen. However, its position is detected directly by the touch screen, so that the developer can easily integrate it into their game design. Zytronic will also show its new "infinity edge" touch sensor technology, allowing the touch surface to be  extended right to the edge of the screen, matching the latest frameless displays. Other enhancements include NFC-ready touch technology, allowing contactless payments, player tracking and loyalty cards to be integrated into touch screen interfaces.
Zytronic Booth S9 - 359  ICE Totally Gaming 2018
How environmentally friendly is Zytronic?
Zytronic is fully compliant with BSI Environmental Management System ISO 14001:2015, and transitioned to the latest standard more than 18 months ahead of the deadline.
What are amongst Zytronic's main goals for the year ahead?
We work in an environment that is continually evolving and we have always used the latest technology to help designers engage the player and provide the most immersive possible playing experience. In addition to the innovations noted above, we will be releasing some exciting new developments around our touch control electronics in 2018, to further enhance our touch screen solutions