Submitted by

admin

on Mon, 07/08/2017 - 19:46
LAS VEGAS, Aug. 07, 2017 (GLOBE NEWSWIRE) -- The AGEM Index experienced a slight increase on mixed stock performance. The composite index stood at 423.92 points at the close of July 2017, which represents an increase of 1.97 points, or 0.47 percent, when compared to June 2017. The AGEM Index reported a year-over-year increase for the 22nd consecutive month and has climbed 129.24 points, or 43.9 percent, since July 2016.
During the latest period, six of the 13 global gaming equipment manufacturers reported month-to-month increases in stock price, with two up by more than 10 percent. Seven manufacturers reported decreases in stock price during the month, with two posting double-digit declines.
The broader stock markets produced positive results in July. The S&P 500 reported a month-to-month increase, rising 2.1 percent to 2,470.30. Additionally, the Dow Jones Industrial Average increased 1.9 percent to 21,891.12, while the NASDAQ increased 3.3 percent during the period to 6,348.12.
Selected positive contributors to the July 2017 AGEM Index included the following:
Scientific Games Corporation (SGMS) contributed 18.31 points due to a 40.34 percent increase in stock price to $37.05.
 
International Game Technology (IGT) reported a 5.72 percent increase in stock price to $19.04 and contributed 3.02 points. 
Selected negative contributors included the following:
With its stock price falling 11.89 percent to AU$20.23, Aristocrat Technologies (ASX:ALL) contributed negative 11.75 points.
 
Konami Corporation contributed negative 6.54 points on a 7.85 percent decrease in stock price to ¥5,750.
 
Crane Company reported a 3.91 percent decrease in stock price to $75.50, contributing negative 2.41 points.
Infographics accompanying this release are available at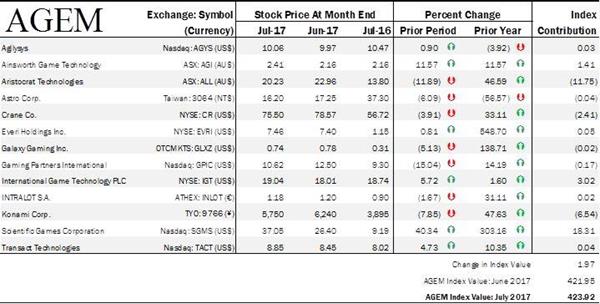 In recent months, several slot machine manufacturing companies have released quarterly earnings reports. Below are selected highlights and results. 
Scientific Games Corporation (SGMS) reported second quarter earnings totaling $766.3 million, a 5 percent increase from the $729.2 million in the previous year. Attributable EBITDA reported a 13 percent increase from the prior year to $314.8 million.
Revenue growth was attributable primarily to Scientific Games' gaming and interactive segments. Gaming revenue increased 3.5 percent to $457.2 million on increases in the sale of gaming machines and gaming systems. This was despite the fact that there were no new casino openings in the company's primary markets. Unit mix for sales also improved as the average price for gaming machines increased from $16,859 to $17,550. Gaming system sales were up 13 percent on new installations in Aliante Casino Hotel, Baha Mar Resort, and ilani tribal casino along with the shipment of the new iVIEW4 player-interface display units.
For the company's interactive unit, revenues grew 28 percent to $106.8 million as social gaming revenue from its business-to-consumer segment grew 31.8 percent. This social gaming revenue growth was attributed to both the continuing popularity of its current products, the introduction of a new app in early 2017 and the acquisition of Spicerack Media in April 2017, which expanded the app offerings. Better than expected results and an analyst upgrade positively impacted the company's stock.
IGT reported revenues of $1.2 billion in the second quarter of 2017, a 5 percent decrease from revenues in the previous year. Revenue figures were impacted by the new Lotto concession dynamics and the sale of Double Down Interactive, which closed in June. Adjusted EBITDA totaled $424 million for the quarter, down 4 percent from the $443 million reported in the second quarter of 2016. EBITDA was similarly impacted by the sale of Double Down Interactive.
Konami Corporation announced first quarter of fiscal year 2018 revenue results of ¥55.7 billion, which represented a 12.8 percent increase over the same quarter of the previous year. The gaming and systems unit, which represents the group's casino offerings, reported revenue of ¥6.5 billion. Gaming and systems revenue decreased 4.4 percent from the prior year and made up 12 percent of Konami Corporation's top line revenue. Declines in gaming and systems revenue was attributed to installments of Konami's casino management system mostly at small and medium-sized casinos. However, slot machine sales still reported strong figures in the North American market.
The AGEM Index
The Association of Gaming Equipment Manufacturers (AGEM) produces the monthly AGEM Index that comprises 13 global gaming suppliers throughout the world. A total of 8 suppliers are based in the United States and are listed on the NYSE, Nasdaq or OTC market, while two trade on the Australian exchange, one supplier trades on the Athens exchange, one on the Tokyo exchange, and another trades on the Taiwan OTC exchange. The index is computed based on the month-end stock price (adjusted for dividends and splits) of each company and weighted based on approximation of market capitalization. Market capitalizations for manufacturers trading on foreign exchanges have been converted to US dollar-equivalents as of month-end for comparability purposes. The AGEM Index is based on a 100-point value as of January 2005.
About AGEM
AGEM is an international trade association representing manufacturers of electronic gaming devices, systems, lotteries, and components for the gaming industry. The Association works to further the interests of gaming equipment manufacturers throughout the world. Through political action, tradeshow partnerships, information dissemination and good corporate citizenship, the members of AGEM work together to create benefits for every company within the organization. Together, AGEM and its member organizations have assisted regulatory commissions and participated in the legislative process to solve problems and create a positive business environment.
AGEM Index
The AGEM index and overview is prepared by Applied Analysis (AA). AA is a Nevada-based advisory services firm providing consultation services for public and private entities. The company utilizes extensive experience in economics, information technology and finance to provide a wide range of services, including urban economic consulting, financial advisory services, market analysis, public policy analysis, hospitality industry and gaming consulting, and information system and technology consulting.