Submitted by

admin

on Fri, 29/08/2014 - 22:19
By Jeff Barker, The Baltimore Sun Even on a normal night, casinos can assault the senses with glitz, flashing lights, showgirls, cocktails, high rollers, fancy food and blaring music. So it follows that the long-awaited opening night of the $442 million Horseshoe Casino Baltimore would include all of those things — but magnified tenfold.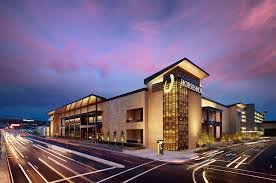 As gamblers and curiosity-seekers lined up to enter the building Tuesday night for the first time, VIPs were treated to a performance by a vertical dance troupe — men and women suspended from cables dancing and spinning up and down a high outside wall. Pop star Iggy Azalea appeared for a surprise performance.
The operators of Maryland's fifth casino were eager to make a splashy first impression for a crowd that included Gov. Martin O'Malley and Mayor Stephanie Rawlings-Blake, who praised the casino for hiring local employees.
About 1,250 of the casino's staff — nearly 51 percent — live in the city, Rawlings-Blake said at a news conference earlier Tuesday at a city career center.
"In order for this to really work," she said, "Baltimore City residents have to benefit by getting these jobs."
Before the casino doors opened to the public, O'Malley and other dignitaries gathered outdoors to pull a giant slotmachine  handle to launch fireworks and unfurl banners depicting major Baltimore events such as the first Preakness in 1873.
"Baltimore. It's your lucky day," each of the five banners read.
"I wish everyone good luck this evening," O'Malley said. He credited Caesars Entertainment Corp. "for doing it on time and getting it done."
Lawmakers in Annapolis debated whether to legalize casino gambling for years before voters endorsed slots in a 2008 referendum. The lure of increased jobs and property taxes made the casinos more palatable to opponents of gambling.
"There are people that aren't excited about gambling, and I am one of them," said Rep. Elijah E. Cummings, a Baltimore Democrat. "I have never gambled more than $5. But how can you put a price on jobs? We need jobs."
The Mayor's Office of Employment Development partnered with the casino to reach out to potential employees. On Tuesday night, Jasmine Jennings, 29, was celebrating not only the Horseshoe's opening but also a new job.
Jennings, the mother of two young children, said she had been unemployed for about 18 months before she waited in line for 51/2 hours to attend a hiring event in May.
She got a job as a "security ambassador" on the overnight shift. Her responsibilities include checking identification, performing cash drops and monitoring patrons' behavior.