Submitted by

admin

on Wed, 04/06/2014 - 11:51
London, June 4th, 2014 – Durham University sports student Ollie Silverton has signed an exclusive contract with online bookmaker Titan Bet for the Best Job in the World – an all-expenses-paid opportunity to represent the rising star of sports betting at the world's biggest football tournament in Brazil this summer.
Ollie, 21 from Cambridge, who has only just completed his final exam, beat hundreds of applicants to the role and has been handed return flights to Rio, hotel accommodation for 33 nights, a month's salary of £4,000 as well as a whole host of prizes including a state-of-the-art smartphone, laptop, and Go-Pro camera.
In return Ollie will write, film and upload a series of daily blogs, match previews, analysis, interviews and video diaries with fans, players and celebrities as well as live tweet from eight games including the semi-finals and the final.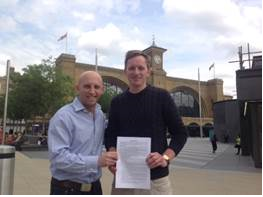 Russell Yershon, spokesman for Titan Bet, was on hand to surprise Ollie. He said: "Ollie's infectious personality, broadcasting and social media skills and his overall entry and campaign to win Best Job in the World stood out from the crowd. He even created his own website and knows sport and betting inside out. He's the ideal candidate.
"The Best Job campaign has been a huge success from day one. We have received hundreds of entries and tens of thousands of tweets, views on YouTube and shares on Facebook. We are offering our customers something completely different this World Cup and Ollie will be on hand to bring us all the best odds and excitement from Brazil."
Sports and football obsessive Ollie, who will celebrate his 22nd birthday the day before the World Cup final, said: "I was told on Twitter about the job and I immediately said 'I need to win this' and made it my mission to do so.
"I couldn't be more excited about the prospect of working for Titan Bet in Brazil. I have so many ideas on how I can not only bring the best World Cup coverage, but also the most interactive coverage. I will be using social media heavily and offering Titan Bet customers the best promotions and offers while I'm in Rio.
"I plan to make it a World Cup to remember and just can't thank Titan Bet enough for this once-in-a-lifetime opportunity."
Watch the moment Ollie found out he won here: http://bit.ly/SqyHz7
Titanbet.com is a full service sports betting site offering bettors real-time, live betting opportunities on sporting events from around the world. Titanbet.com covers football, rugby, American football, baseball, basketball, tennis, cricket, motor sports and more, in sport circuits throughout Europe, North America, South America, Africa and Asia. Titan Bet is a product of Euro Partners - the largest and most established affiliate program for Playtech licensees worldwide.