Submitted by

admin

on Wed, 13/09/2017 - 13:06
CHIPS, the UK gaming industry charity which provides specialised wheelchairs for children and young people with severe mobility problems, received the largest single donation in its 16-year history, when co-founder Linda Lindsay was presented with a cheque for £170,000 by Praesepe Chief Executive, Nick Harding. The presentation by the bingo and adult gaming centre operator, part of the Gauselmann Group of companies, was made ahead of CHIPS flagship fundraiser, the annual British Gaming Golf Championship, which was held on the celebrated Marquess Course at Woburn Golf Club, a venue which has hosted more than 50 professional tournaments and featured golf greats including Seve Ballesteros, Nick Faldo, Greg Norman, Sandy Lyle and Colin Montgomerie.
 

Image: Praesepe Chief Executive Nick Harding (Centre Left) presents a cheque for £170,000 to CHIPs co-founders, Linda Lindsay and Alan Goodenough
Addressing the 105 guests attending the Prize Giving Dinner, Linda Lindsay highlighted the magnificent team work which goes into identifying recipients of CHIPS funded chairs, the design and engineering necessary to create a chair which meets the specific physiological needs of each child, and most importantly, the tremendous support of the many gaming organisations which since 2001 have raised a total in excess of £1.75m, all of which goes into the purchase of chairs. 
 

Image: Travelex - The 16th British Gaming Golf Championship winning team
She said: "CHIPS was born out of the UK gaming industry and continues to be funded almost exclusively by the industry. Whilst there are so many organisations who support us, I am indebted to Caesars UK, Genting Casinos (both staff and Directors) all our regular and some new participants in this room and of course to Praesepe for their commitment and compassion. Once again Nick and his team have succeeded in bringing me very close to tears with the depth of their generosity and kindness. Each year they break their own fundraising record and each year I struggle to keep my composure.  £170,000 is an enormous amount of money and is the result of amazing fundraising initiatives undertaken by both staff and customers throughout the Praesepe estate of Cashino adult gaming centres and Beacon Bingo clubs."
 
"Every chair we provide on behalf of the UK gaming industry brings great joy not only to the individual child who is able to interact and socialise with friends but also to the family unit. The sad part is that the demand for specialised chairs that the government can't provide, far exceeds what CHIPS can supply, despite the fact that we will shortly be making our 500th presentation. The gaming industry has a formidable record of charitable fundraising and on behalf of the families that the industry has helped and will help in the future, I would like to say a heartfelt thank-you. Lastly, CHIPS is a real team effort and none of this would be possible if it wasn't for the support of my fellow Trustees who have contributed so much to making CHIPS what it is today."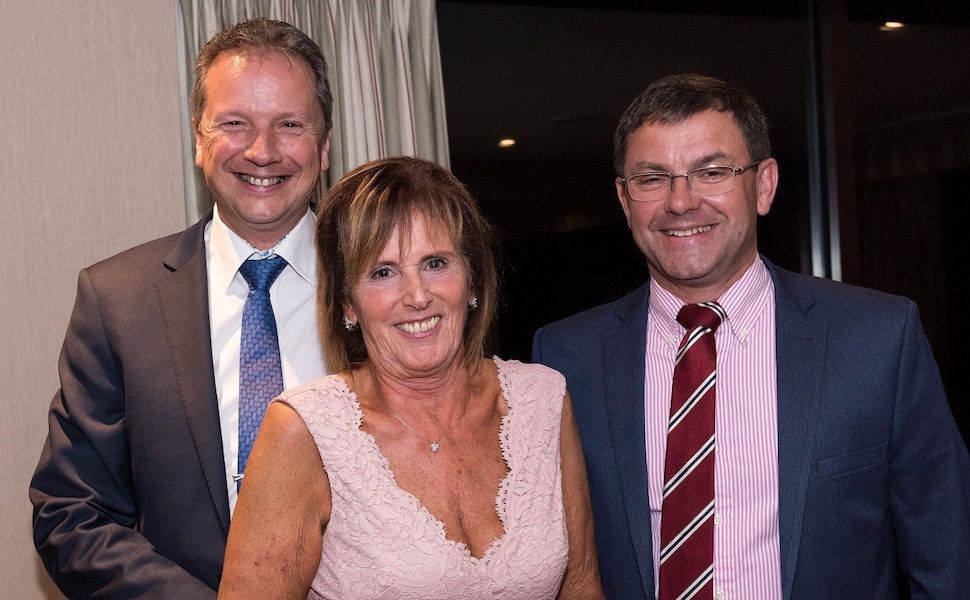 Image: Individual highest Stableford score winners (L-R Adrian Frost (Grosvenor Casinos, Luton), Linda Lindsay and Gus Coutts from Travelex
The 16th British Gaming Golf Championship winning team was Travelex. The individual highest Stableford score was registered jointly by Adrian Frost (Grosvenor Casinos, Luton) and Gus Coutts from Travelex and the individual lowest gross score was again Adrian Frost. The longest drive was recorded by Thomas Scanjuan from AG Gaming and nearest the pin 8th Adrian Frost and 17th Sean Parsons (OTR Consulting.)