Submitted by

admin

on Tue, 08/07/2014 - 20:10
It is a great pleasure to welcome our customers, business partners and friends in the gaming industry to meet with us and present Interblock's products at AGE show 2014 in Sydney. Australasian Gaming Show 2014 will take place between 12th and 14th August, featuring more than 180 exhibitors across 15,000 square metres of exhibition space and it's the biggest gaming event in Australia.
Interblock is very proud to present its newest and most innovative products and design at the moment for their big come back to this show after several years:
·         NEW G5 IB-HG 55" LCD with 05 G5 Play Stations with NEW mini LED sign (Baccarat and Multihand BlackJack Game)
·         NEW Revolutionary G5 MiniStar Roulette with 05 G5 Play Stations with one-sided PID  and LED sign (Single Zero Game with Goal Roulette Side Bet)
·         G5 Roulette Generator with 05 Play Stations (Single Zero Game)
G5 MiniStar Roulette with 05 G5 Play Stations and Player Information Display: is the smallest and best performing 5-seat product available on the market from Interblock's newly launched G5 family of gaming products. It is available with Single or Double Zero roulette wheel, however in a much smaller diameter – approx. 2m (6.5 ft.) and it's built to accommodate any casino floor size with a much smaller footprint. Players benefit from a mystery progressive Jackpot system (Golden Chip), fast result detection, additional Side Bets and excellent roulette wheel visibility.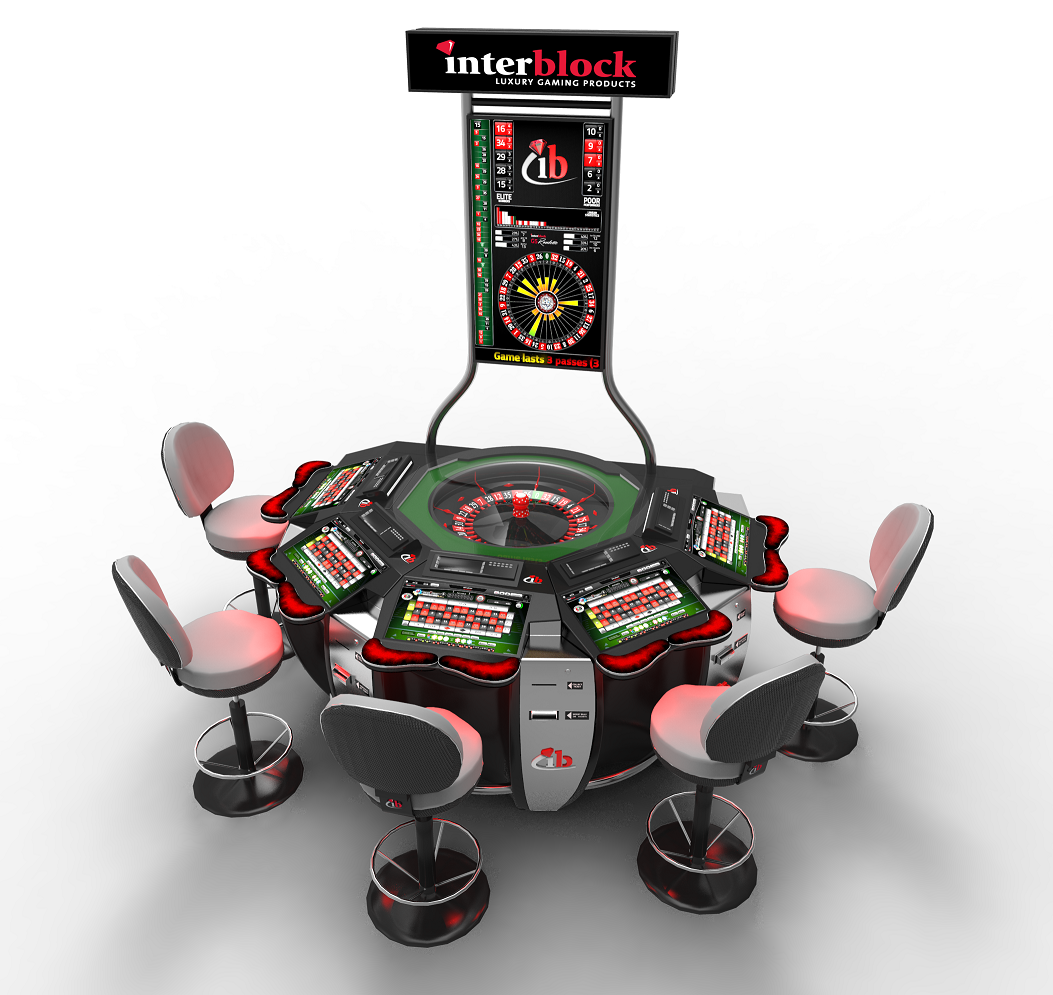 G5 Roulette Generator with Single Zero Game: roulette remains one of the most popular and easiest game to play on the casino floor. It is a fully automatic version of the Roulette game, available with a single or double-zero Roulette wheel. It uses air pressure to launch the ball onto the brim and a series of optical and proximity sensors to track the ball during its path and detect its final position. Improvements of the concept in the fifth generation include new fast result detection with 3 sensors, automatic ball change (10 ball changer), UNI-power for 110V and 220V regions, a completely non pliable carbon-fiber brim around the Roulette wheel and a thorough fraud-preventing system. The generator enables more than 100 results per hour.
G5 IB-HG 55" LCD with 05 G5 Play Stations: is based on 3D technology, which provides a new way of projecting video to create the illusion of life-size, full color, 3D moving images. It's a stand-alone gaming machine, connected with up to 5 Play Stations. The mind of the audience creates the 3D illusion. At the AGE show Baccarat and Multihand Blackjack game will be available.
The concept of Multihand Blackjack Game is to offer a community of players (unlimited number of players) the ability to play up to 3 hands of blackjack in a heads­-up format against the dealer. The player can choose to play any or all of the three player hands. Since this is a community game, the starting 2 cards for all 3 Blackjack Hands will be the same for all players.  Each player then makes all hand decisions independently. Standard Blackjack rules apply.
Play Like A Champion at Interblock booth # 430!
Interblock team