Submitted by

admin

on Thu, 15/03/2018 - 20:10
If the casino industry gets its way, this could be the last March Madness where Americans have to go to Nevada to bet legally on the college basketball championship
The U.S. Supreme Court is expected to rule, possibly next month, on New Jersey's bid to offer sports betting. If the court gives the go-ahead, it could start a chain reaction of states approving such wagers in casinos and online. Forecasters see revenue from legal sports betting rising to the billions of dollars within five years, while companies including MGM Resorts International and Caesars Entertainment Corp. are closely watching the case.
Game's Afoot
Sports betting in Nevada has almost doubled since 2009

Source: Nevada Gaming Control Board
"They're all just sort of circling around the opportunity and getting ready to pounce," said David Henwood, an analyst with the U.K.-based researcher H2 Gambling Capital.
Federal law limits sports betting to the states that offered it before legislation was passed in 1992: Nevada, Montana, Delaware and Oregon. Of those, only Nevada offers a full suite of betting options, including college hoops. Oregon no longer offers it.
Sports leagues have historically opposed expanded betting, but sentiment seems to be shifting. The National Basketball Association has been asking for a cut, a 1 percent "integrity fee," if such wagering is allowed. Five states have passed legislation and may be in position to offers sports betting soon after Supreme Court approval, according to Gambling Compliance, a Washington-based industry researcher. They are New York, Pennsylvania, New Jersey, Mississippi and West Virginia.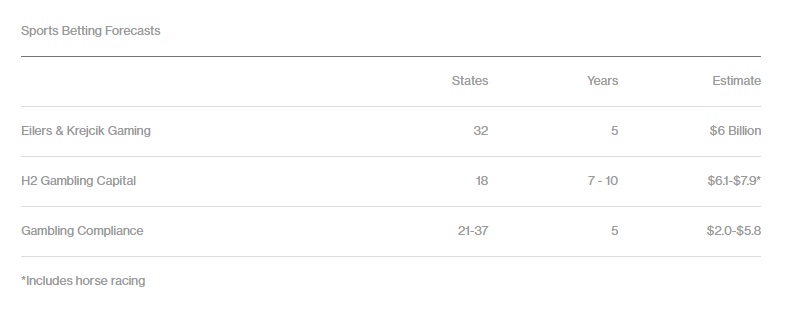 Nevada, with a long history of sports betting, provides a window into what the rest of the country could look like. Marco D'Angelo, a professional gambler who sells sports picks in Las Vegas, has six apps on his smartphone. Just like a Wall Street trader, he can check the odds at establishments in the state. If MGM has a more favorable point spread on a particular game than the Golden Nugget, he no longer has to race between the properties to place his wager.
"It's just like shopping online," D'Angelo said.
Nevada Parlors
Nevada betting parlors also allow wagering while a game is being played. So if the team D'Angelo already bet to win is losing, he can gamble on a different outcome and perhaps recoup his money. Another type of wager, called a proposition bet, lets customers put money on outcomes other than the winning team, such as who the most valuable player will be. "A lot of times you find value in the game," D'Angelo said.
Fans at University of Nevada basketball games or Golden Knights hockey games, for example, can be seen whipping out their phones to place bets. Last month, Super Bowl betting hit an all-time high, a 15 percent increase from the prior year. The college basketball championships, which began Tuesday, could see a similar bump.
The most likely winners from a favorable court decision will be existing operators -- casinos, horse tracks and lotteries. Many, and their suppliers, are already getting in position.