Submitted by

admin

on Thu, 18/09/2014 - 12:58
Milton Keynes: (18 September): Gaming industry charity CHIPS, will be able to deliver a further 18 bespoke powered wheel chairs to children with profound physical disabilities thanks to a record breaking donation of £110,000 from low stake gaming operator Praesepe. The cheque, which was presented by Praesepe CEO Nick Harding to CHIPS co-founder Linda Lindsay at the charity's annual golf day held at Wentworth, covers the first nine months of 2014 and is a 10 per cent increase on the figure raised by the company in 2013.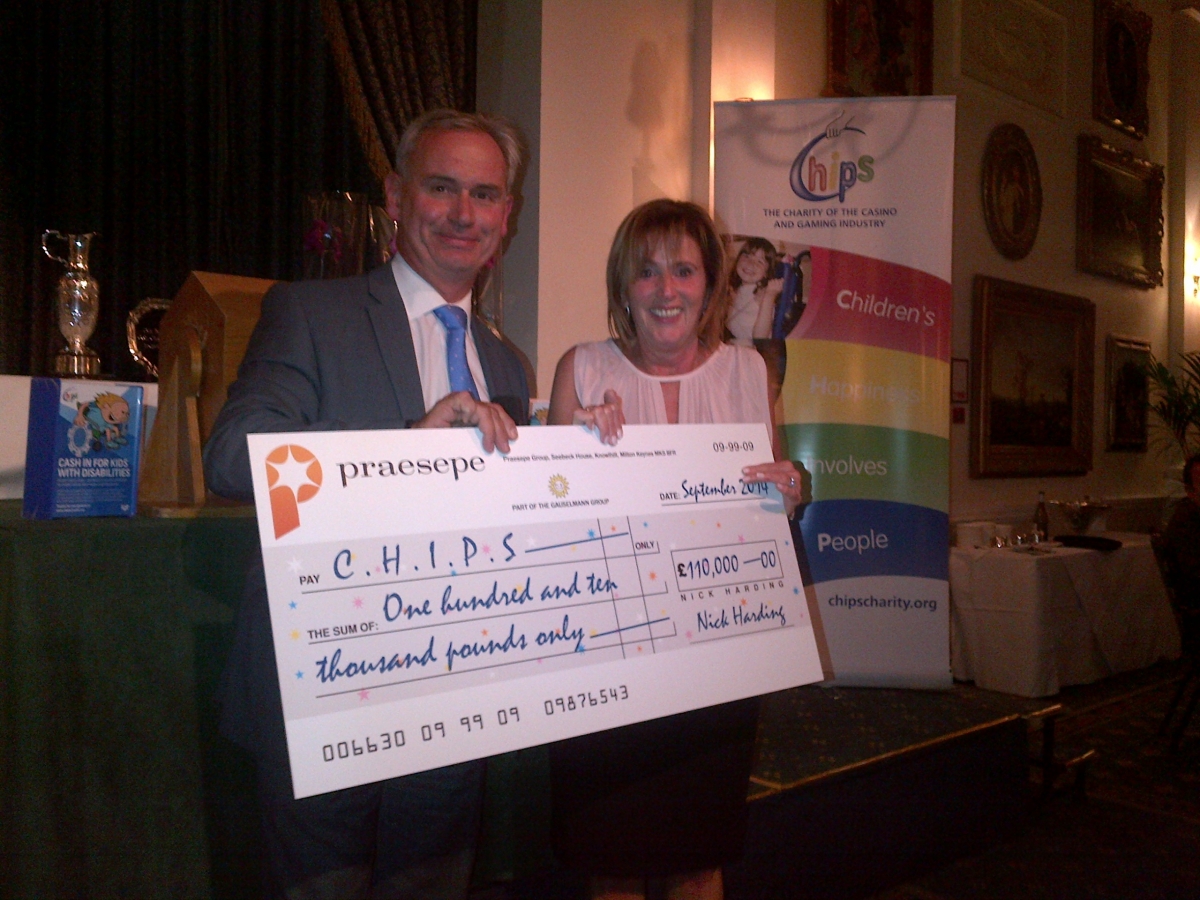 In a statement issued to staff and colleagues in the low stake gaming sector, Praesepe CEO Nick Harding said: "This is a massive achievement and I would like to thank all of the Praesepe team in all of our AGCs, FECs and Bingo Clubs for the fantastic effort they have all put into our fund raising this year. You should all be very proud of yourselves in the knowledge that we continue to help, in a big way, children who have absolutely no chance of getting these special wheel chairs without your help. In my view we have the best and most committed staff in the industry and every venue has really pulled out all the stops to hit their fund raising target."
He added: "I would also like to place on record my sincere thanks to partners and colleagues in UK and European gaming for their generous support, especially of our 5-a-side tournament in June which has become the biggest sporting event on the UK gaming industry calendar."
L2R Sam 17 Harry 3 who received their specially made powered wheelchairs during pre dinner drinks, represented both ends of the age limits for CHIPS Charity
Linda Lindsay, co-founder of the CHIPS Charity commented: "This is truly wonderful; the hard work that everyone at Praesepe does in order to raise these funds is remarkable. The total raised by Praesepe over the years is close to £400,000, a fantastic sum which has helped to change many lives by giving children the precious commodity of mobility and with that independence. On behalf of all of us, and most importantly the children that you have helped, thank you from the bottom of my heart."